Philadelphia Surging with Digital Health Innovation
EY, Ben Franklin, PACT, Fairmount Partners, CEO Council for Growth Align to Explore; $900M+ invested in sector since 2008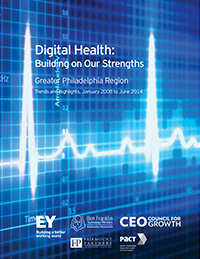 PHILADELPHIA — As a hotbed for sustaining growth within Digital Health, few global markets are so positioned to thrive as the Greater Philadelphia region. In a joint study by Ben Franklin Technology Partners of Southeastern PA, CEO Council for Growth, Ernst & Young LLP, Fairmount Partners, and the Greater Philadelphia Alliance for Capital and Technologies (PACT), the Greater Philadelphia region's strength and potential in Digital Health is explored, with more than $900 million in investment/exit activity in the region's Digital Health sector since 2008.
Detailed in the report entitled "Digital Health: Building on our Strengths", the Greater Philadelphia region's pharma, healthcare, clinical trials and health related IT sectors produced not only a tremendous base of opportunity for Digital Health ventures, but a strong infrastructure of organizations and initiatives to support further innovation. Both demand and potential are clear:
Of the 100+ digital health companies in the region, more than half are focused on improving the effectiveness and efficiency of health care providers, including hospitals, physicians and other caregivers.
With 198 hospitals and headquarters of two of the nation's largest health insurers – (Cigna, Independence Blue Cross) – nearly two-thirds of digital health companies in the region are developing provider/payer solutions.
Philadelphia is within two hours of 80% of the world's major pharmaceutical companies, and home to GSK's US headquarters. The pharma-focused subsector of digital health accounted for 21% of the region's digital health companies, attracting the most outside investment during the period studied.
As patient-focused healthcare management gains traction, patient engagement applications accounted for the region's largest portion of consumer-focused digital health companies.
To accelerate the growth of digital health in response to the Affordable Care Act, key stakeholders have organized around a common vision to leverage the region's assets to increase recognition as a global leader in health care innovation.
"The evolution and convergence of the health and technology sectors continues. Match that with both the opportunity and spirit of the region, and there's clearly a bright future for Digital Health here," says RoseAnn B. Rosenthal, President and CEO of Ben Franklin.
Dean Miller, President and CEO of PACT shared, "Greater Philadelphia has had strength in eds and meds dating back to our founding of the nation's first hospital. Our region's Digital Health sector strength builds upon this foundation in a very scalable and sustainable fashion driven by incredibly innovative entrepreneurs and enterprises, in many cases working together to solve big problems."
"We continue to be impressed by the consistency of activity in the greater Philadelphia region, which has increased over the past 12 months," said Amy Dorfmeister, Ernst & Young Strategic Growth Markets (SGM) Partner. "The healthcare IT sector continues to be very strong and should continue to see increased activity throughout 2014," she added.
Dick Thatcher, Co-founder and Managing Director of Fairmount Partners, notes "as an active investment banking and strategic advisor to emerging growth and middle-market healthcare information technology companies, and a regular publisher of healthcare information technology market trends, the Greater Philadelphia region has been, and will continue to be, a robust geography for both merger and acquisition and financing activity for the years to come. The combination of the region's mid-and-large sized Digital Health constituent base (e.g., healthcare systems, healthcare payers, pharmaceutical companies), and a growing trend of top-flight talent from that constituent base seeking a more entrepreneurial flavor to their professions, will only continue to drive Digital Health company formation, innovation, quality of healthcare delivery and ultimately, investment / consolidation."
"Greater Philadelphia possesses world-class health care assets that will accelerate and lead the development of innovation in health care technology and delivery. The CEO Council for Growth supports key regional partnerships that will leverage these health care assets and is pleased to collaborate on this important report. Recognizing the growth potential of the digital health sector, the CEO Council for Growth has begun to convene regional leaders to develop a "laboratory" for health care innovation, and is utilizing the marketing and promotional strengths of Select Greater Philadelphia to highlight innovations within the regional health care sector," said Rob Wonderling, president and CEO of the Greater Philadelphia Chamber of Commerce and Chairman of the CEO Council for Growth.
The full report is being released today at the 2014 IMPACT Capital Conference (www.phillyimpact.com).
About the contributors:
Ben Franklin Technology Partners of Southeastern Pennsylvania
Ben Franklin is the most active early stage capital provider for the region's technology sectors. Ben Franklin combines best practices of venture capital with a public-spirited purpose: leading the region's technology community to new heights, creating jobs and changing lives for the better. Ben Franklin is an initiative of the Pennsylvania Department of Community and Economic Development and is funded by the Ben Franklin Technology Development Authority.
www.sep.benfranklin.org
CEO Council for Growth
The CEO Council for Growth (CEO Council) is a devoted group of more than 55 business, higher education, and civic leaders who commit their time and efforts to enhancing economic growth and prosperity in the 11-county region across northern Delaware, southern New Jersey and southeastern Pennsylvania. The CEO Council is an initiative of the Greater Philadelphia Chamber of Commerce influencing regional and national policy through advocacy.
www.ceocouncilforgrowth.com
EY
EY refers to the global organization of member firms of Ernst & Young Global Limited. It is a global leader in assurance, tax, transaction and advisory services. Worldwide, its 190,000 people are united by its shared values and an unwavering commitment to quality. EY makes a difference by helping its people, its clients and its wider communities achieve their potential. Ernst & Young LLP is an EY member firm serving clients in the US.
www.ey.com
Fairmount Partners
Fairmount Partners provides merger and acquisition, capital raising and strategic advisory services to fuel growth and maximize value for middle market companies. We work closely with healthcare and technology industry executives (and their investors) to complete sales, acquisitions, and financing transactions. We also work closely with private equity firms to execute growth and acquisition transactions to facilitate effective exits for their portfolio companies. From 2011 through 2013, the total value of our completed transactions exceeded $2.0 billion.
www.fairmountpartners.com
PACT
Greater Philadelphia Alliance for Capital and Technologies (PACT)'s vision is to be a premier resource for emerging growth companies in the technology and healthcare industries. We connect emerging growth companies, investors, professional advisors, universities and technology-focused corporations to network, develop relationships, pursue business opportunities, and market and promote their businesses to foster growth and innovation.
www.philadelphiapact.com
Contacts:
Ben Franklin:
Jason Heritage
jason@sep.benfranklin.org
215-972-6700
CEO Council:
Kate Hagedorn
khagedorn@greaterphilachamber.com
215-790-3831
EY:
Rhonda Nelson
rhonda.nelson@ey.com
212-773-0735
Fairmount Partners:
Dick Thatcher
dick.thatcher@fairmountpartners.com
610-260-6238
PACT:
Amanda Nardi
anardi@philadelphiapact.com
215-790-3608
###
---