Philadelphia Building on Strengths in IT
Philadelphia Building on Strengths in IT: Ben Franklin, EY, PACT, Fairmount Partners, CEO Council for Growth, Select Greater Philadelphia, Comcast Align to Explore; $11.3B in investment/exit activity in region's IT companies 2010-Q2 2015
PHILADELPHIA, January 14, 2016 — From its roots with ENIAC in 1946, through its software-based innovations of today, a vibrant Information Technology (IT) ecosystem is thriving in Philadelphia. A joint study by Ben Franklin Technology Partners of Southeastern PA, CEO Council for Growth, Select Greater Philadelphia, Ernst & Young LLP, Fairmount Partners, Comcast, and the Greater Philadelphia Alliance for Capital and Technologies (PACT) explores the Greater Philadelphia region's IT investment activity of the last five years and shows positive results. The research indicates that with $11.3 billion in investment and exit activity in the region's IT companies from 2010 through Q2 2015, Greater Philadelphia is primed for a new era of success.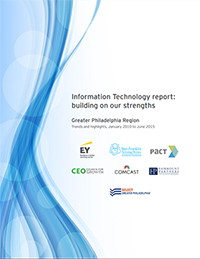 The report, entitled "Information Technology: Building on our Strengths", details investments in IT companies from 2010 through the first half of 2015 with data illustrating how the payoffs from those investments have been woven into the economic fabric of the Greater Philadelphia region. As an ever-increasing component of the region's export profile, the growing IT sector is producing a broad range of companies and sustainable employment opportunities.
From 2010 to Q2 2015:
More than 6,000 IT-based companies operated in the 11-county Greater Philadelphia region, employing almost 90,000 people.
Over 1,000 investment rounds were closed in IT companies; more than 250 M&A deals, valued at $10.2 billion; over 400 funded deals, valued at over $1.1 billion.
The industry grew from $21 billion in sales to $35.8 billion in sales from 2001 to 2014, accounting for approximately $8.3% of the region's GDP.
A layered IT ecosystem has flourished; built of pre-seed/seed investment partnerships, startup communities, co-working spaces and incubation/acceleration programs, university challenges, regional initiatives, corporate partnerships, media, and even targeted community programs.
"The Greater Philadelphia region's IT sector continues to demonstrate sub-sector diversity and the ability to develop and bring to market solutions to real needs," said RoseAnn B. Rosenthal, President and CEO of Ben Franklin.
"We can all feel the positive momentum in Philadelphia's start-up technology community.   What might be surprising is the depth and scale of information technology's 'reach' in our region," said Dean Miller, President and CEO of PACT. "The impact on Philadelphia's GDP and exports is significant!"
"Innovation is one of the foundational priorities of the CEO Council for Growth because it positions the region for accelerated company development and growth," said Rob Wonderling, Chairman of the CEO Council for Growth and President and CEO of the Greater Philadelphia Chamber of Commerce. "As the IT sector advances in Greater Philadelphia, the positive ripple effects will continue to be felt across our economy as demonstrated in this report."
"As a technology-focused investment bank, we think it is wonderful to see the Philadelphia region emerge and be recognized nationally as having a place with other top technology centers nationally and world-wide," said Charles Robins, Managing Director of Fairmount Partners. "The critical mass of universities, capital, culture, infrastructure and supportive government is positioning this region as a "hot choice" for young talents and growing companies. We believe this is just the beginning!"
"The sustained growth in the region's IT ecosystem is a tremendous selling point when attracting others here," said Matt Cabrey, Executive Director of Select Greater Philadelphia. "We are excited to build upon the current success and help Greater Philadelphia continue to evolve as a hotbed of talent and innovation."
Previewed at PACT's Impact Conference last month, the full report is available today at https://www.sep.benfranklin.org/ITreport2015.
###
About the contributors:
EY
EY refers to the global organization of member firms of Ernst & Young Global Limited. It is a global leader in assurance, tax, transaction and advisory services. Worldwide, its 190,000 people are united by its shared values and an unwavering commitment to quality. EY makes a difference by helping its people, its clients and its wider communities achieve their potential. Ernst & Young LLP is an EY member firm serving clients in the US.
www.ey.com


Ben Franklin Technology Partners of Southeastern Pennsylvania
Ben Franklin is the most active early stage capital provider for the region's technology sectors. Ben Franklin combines best practices of venture capital with a public-spirited purpose: leading the region's technology community to new heights, creating jobs and changing lives for the better. Ben Franklin is an initiative of the Pennsylvania Department of Community and Economic Development and is funded by the Ben Franklin Technology Development Authority.
www.sep.benfranklin.org
PACT
Greater Philadelphia Alliance for Capital and Technologies (PACT)'s vision is to be a premier resource for emerging growth companies in the technology and healthcare industries. We connect emerging growth companies, investors, professional advisors, universities and technology-focused corporations to network, develop relationships, pursue business opportunities, and market and promote their businesses to foster growth and innovation.
www.philadelphiapact.com
CEO Council for Growth
The CEO Council for Growth (CEO Council) is a devoted group of more than 55 business, higher education, and civic leaders who commit their time and efforts to enhancing economic growth and prosperity in the 11-county region across northern Delaware, southern New Jersey and southeastern Pennsylvania. The CEO Council is an initiative of the Greater Philadelphia Chamber of Commerce influencing regional and national policy through advocacy.
www.ceocouncilforgrowth.com
Comcast Corporation
Comcast Corporation (NASDAQ: CMCSA, CMCSK) is a global media and technology company with two primary businesses, Comcast Cable and NBCUniversal. Comcast Cable is one of the nation's largest video, high-speed internet and phone providers to residential customers under the XFINITY brand and also provides these services to businesses. NBCUniversal operates news, entertainment and sports cable networks, the NBC and Telemundo broadcast networks, television production operations, television station groups, Universal Pictures and Universal Parks and Resorts.
www.comcastcorporation.com
Fairmount Partners
Fairmount Partners provides merger and acquisition, capital raising and strategic advisory services to fuel growth and maximize value for middle market companies. We work closely with healthcare and technology industry executives (and their investors) to complete sales, acquisitions, and financing transactions. We also work closely with private equity firms to execute growth and acquisition transactions to facilitate effective exits for their portfolio companies. From 2011 through 2013, the total value of our completed transactions exceeded $2.0 billion.
www.fairmountpartners.com
Select Greater Philadelphia
Select Greater Philadelphia (Select) is a business attraction marketing organization dedicated to promoting the Greater Philadelphia region nationally and globally in order to establish Greater Philadelphia as a top-tier place to do business. Select assists companies interested in the region by providing detailed information about the 11-county area and gateway services that connect companies with the legal, political and financial assistance they may need in relocating or expanding in the Greater Philadelphia region.
www.selectgreaterphiladelphia.com
Contacts:
Ben Franklin:
Jason Bannon
jbannon@sep.benfranklin.org
215-972-6700
PACT:
Amanda Nardi
anardi@philadelphiapact.com
215-790-3608
Select Greater Philadelphia:
Kate Hagedorn
khagedorn@greaterphilachamber.com
215-790-3831
---