Report: ImpactPHL Ventures Invested $17 Million in First Five Years
Findings published from 53 companies driving sustainable development goals in Philadelphia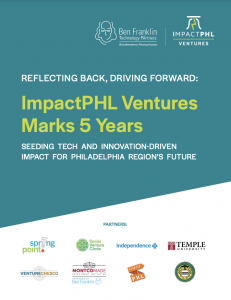 PHILADELPHIA – OCTOBER 26, 2021 – Ben Franklin Technology Partners of Southeastern Pennsylvania (Ben Franklin) has published its five year report for ImpactPHL Ventures, the co-investment program focused on technology-focused enterprises that support outcomes of social impact. The report highlights Ben Franklin's key findings from the first five years of the successful program, which includes the performance and outcomes of its companies, and Ben Franklin's focus for the future.
53 Philadelphia area companies have received a total of $17 million invested from the program to date, with technologies as diverse as healthcare, food service, education and financial services. Each ImpactPHL Ventures company is aligned with at least one of the United Nations Sustainable Development Goals (SDGs).
The report was developed in partnership with ImpactPHL and EConsult Solutions, Inc, thanks to support from the U.S. Economic Development Administration. ImpactPHL Ventures operates with support from partners including Spring Point Partners, Social Venture Circle, Independence Health Group, Temple University, Bucks County Pension Board, Chester County Retirement Board, Montgomery County Industrial Development Association, and PIDC.
"These past eighteen months have made even clearer the relevance of these early stage technological innovations to our health and social impact. It is clearly a time for us to continue to engage capital from all sources toward solving the pressing the problems of our time," says Margaret Berger Bradley, Vice President of Strategic Initiatives at Ben Franklin. "It is in partnerships, like ImpactPHL Ventures, that we demonstrate how we spur on such innovation and our vision of equitable economic vitality."
"Ben Franklin has been an essential leadership partner for social and environmental impact investing," said John Moore, chair of ImpactPHL and Philadelphia Network Manager of Social Venture Circle. "ImpactPHL Ventures continues to be a valuable tool to highlight the opportunity in organizing capital motivated by positive social impact. It's one of the things that makes Philadelphia an active hub of social entrepreneurship."
###
ABOUT BEN FRANKLIN TECHNOLOGY PARTNERS OF SOUTHEASTERN PENNSYLVANIA
Ben Franklin Technology Partners of Southeastern Pennsylvania (Ben Franklin) is the Philadelphia region's Partners with a Purpose. Nationally ranked among the most active seed and early-stage investors, Ben Franklin helps high-growth innovative enterprises plant and nurture their roots, creating both immediate connections and lasting economic growth. The nonprofit has supported more than 2,000 companies to deliver an impact of more than $5 billion and 32,000 jobs in the Philadelphia region. Whether in tech, life sciences, manufacturing, or industries and breakthroughs yet discovered, Ben Franklin works to raise the community of innovation higher, to benefit present and future generations of Pennsylvanians. Visit us at www.partnerswithapurpose.org, or follow us at @bftp_sep.
ABOUT IMPACTPHL
ImpactPHL is a 501(c)3 non-profit dedicated to growing the Greater Philadelphia region's impact economy. We encourage and help individuals and organizations align their financial assets with their values. Our community includes investors large and small, foundations, family offices, social entrepreneurs, and business leaders. We connect and grow this community via advocacy, collaboration, events, education, and information sharing. ImpactPHL envisions Greater Philadelphia as a leader in the global impact economy. By aligning our collective financial assets and regional economy with social and environmental goals, we will create an inclusive, sustainable, and resilient economy that works for all of our residents.www.impactphl.org
---