Event Recap: Founder Factory 2016
Last Thursday, December 8, Philly Startup Leaders hosted its annual Founder Factory, a day-long conference that aims to unleash the potential of Philadelphia entrepreneurs by bringing together the local community of founders, mentors, angels, VC's, students, government groups, and community partners for a collaborative and engaging day of learning, teaching and community building.
The day started off with a fireside chat with David Tisch, managing partner at BoxGroup, an early stage investment fund based in New York City with a portfolio of companies like Blue Apron, Harry's, and Warby Parker. Moderated by local serial entrepreneur and current CEO of Monetate, Lucinda Duncalfe, the discussion centered on the entrepreneurial journey from Tisch's point of view.
One particular nugget of wisdom that Tisch offered for early-stage startups looking for funding was:
"Ask the potential VC for the last three companies that they removed from their website. Then, go talk to the founders of those companies. You'll learn all you need to know about the VC and whether or not it'll be a good partnership."
The day continued with panels and breakout sessions featuring local businessmen and women such as David Bookspan, Founder & Board Director of Dreamit; Anthony Bucci, CEO of RevZilla; and Robert Moore, Head of Analytics at Magento Commerce and former founder of recently Philly success story, RJMetrics. With tracks titled Sales, People, Marketing, and Operations, discussion topics ranged from how to properly exit your company from CEOs who've sold their businesses and raising capital for scaling a business to fostering a healthy company culture.
During lunch, Scott Nissenbaum of Ben Franklin, alongside David Luk of Safeguard Scientifics and Tom Olenzak of Independence Blue Cross, announced a $6 million funding initiative over a four year period targeting technology-driven, early-stage startups in the Greater Philadelphia area. We thank Brock Weatherup and Philly Startup Leaders for providing us with the platform to introduce our new initiative.
After lunch, the day resumed with The Secret Life of a COO featuring Linda Kozlowski, COO of Etsy. Kozlowski lauded Etsy, stating that "It's one of the few companies that's really true to its mission." Kozlowski addressed the core characteristics of a COO that truly matter, such as trust, proven execution, humility, a genuine connection with the CEO, leadership and communication skills, and versatility. Kozlowski's last piece of advice particularly resonated with the audience, as she addressed when a CEO should hire a COO.
"If you make a physical product, hire a COO immediately. For companies with digital products, hire once you're ready to scale. If you are deep tech and are not business savvy, hire immediately."
The day concluded with a fireside chat between Yuval Yarden, Program Director for Philly Startup Leaders, and Hayley Barna. Barna is formerly the Co-CEO of Birchbox and now a venture partner at First Round Capital. Barna enlightened the audience on the origins of Birchbox and the challenges faced while building a wildly successful brand.
Overall, Ben Franklin was well represented at the event, with speakers from our portfolio companies and Board of Directors. Speakers included Deirdre Gillin Ruttle, VP of Marketing at InstaMed; David Lindsay, Co-Founder and CEO of Oncora Medical; Christina Lopes, CEO and Founder of The One Health Company; Steve Tutelman and Andre Golsorkhi, CEO and COO of Sidecar; Brendan McCorkle, CEO of CloudMine; and Mindy Posoff, Managing Partner of Golden Seeds.
Top Tweets from Founder Factory 2016: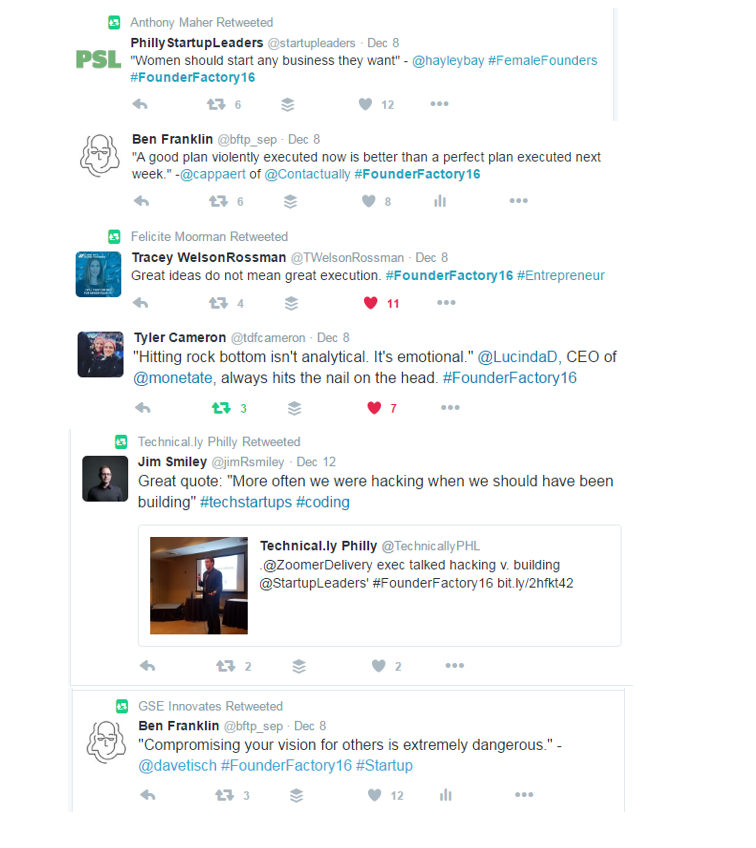 ---