Personnel Profile: New Faces, New Roles

First and foremost, on behalf of the entire Ben Franklin team, I want to wish everyone a very prosperous and healthy New Year.
2016 was a noteworthy year for us, from the launch of ImpactPHL to the recent announcement of our digital health partnership with Safeguard Scientifics and Independence Blue Cross.
Furthermore, we had many exciting changes to our team over the last year. As 2017 commences, I'd like to take the time to highlight the talented individuals who either joined Ben Franklin or assumed new roles and responsibilities on our team over the past year.
Last year we proudly welcomed Anupama Raghukumar, Grant and Contracts Administrator; Scott Nissenbaum, Chief Investment Officer; Nicole Matthesen, Associate of Marketing & Creative Services; Margaret Berger Bradley, Director of Investment Partnerships; Rick Genzer, Director of Investments, IT; Jon Beschen, Manager in the Technology Commercialization Group;  and Tyler Cameron, Associate of Public Relations and Community Development.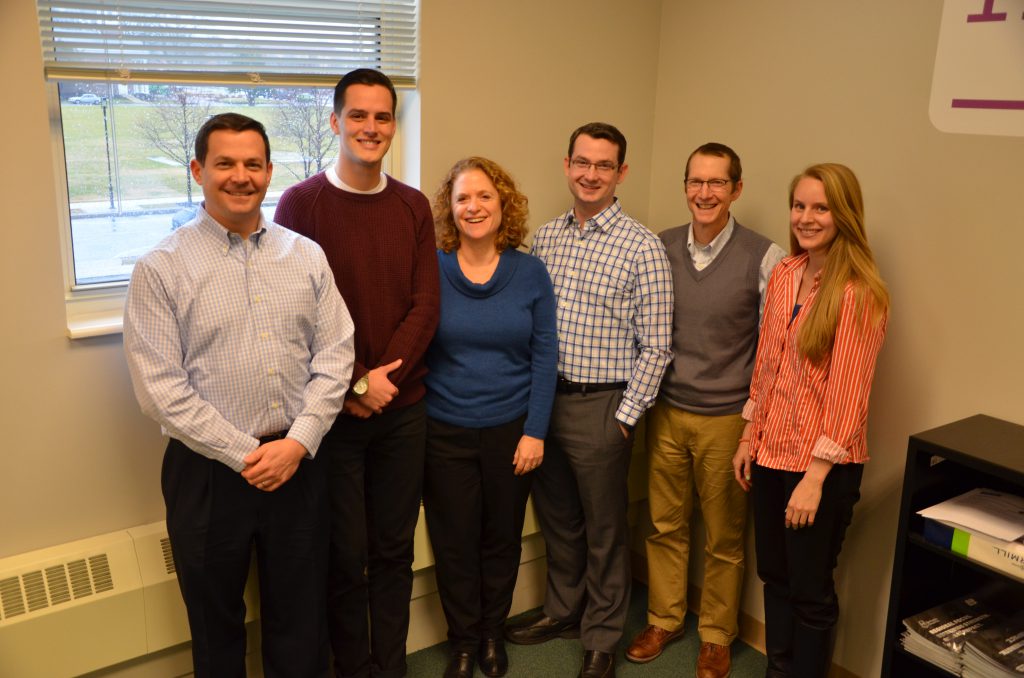 Left to Right: Scott Nissenbaum, Tyler Cameron, Margaret Berger Bradley, Jon Beschen, Rick Genzer, and Nicole Matthesen. Not pictured: Anupama Raghukumar. 
Now, a little about each of our seven new team members:
In the beginning of the year, Anupama Raghukumar joined our team as a Grant and Contracts Administrator. Anu is a seasoned Grants professional who previously worked at the University of Pennsylvania. We're confident that her knowledge and skills will continue to lead Ben Franklin Technology Partners to new heights.
In March, Scott Nissenbaum joined Ben Franklin as Chief Investment Officer. Scott's hands on experience with companies, knowledge of the venture capital industry, solid professional relationships and commitment to our region are all qualities that are necessary to the Chief Investment Officer role here at Ben Franklin, making him a natural fit.
Nicole Matthesen joined Ben Franklin's Marketing department this past May. With over 6 years of experience working in creative marketing communications, Nicole has a proven ability to translate ideas into designs. Nicole's enthusiasm for non-profit organizations dedicated to positive impact dovetails closely with our mission, thus making her a stellar addition.
Margaret Berger Bradley joined as our Director of Investment Partnerships in July. Margaret has more than 25 years experience with propelling community and economic development, building organizational capacity and managing philanthropic investments. She is currently focused on creating partnerships that expand our access to capital and further the overall mission, with a particular focus on emerging impact investment strategies.
After dedicating nearly 20 years to Ben Franklin's technology advisory committee, Rick Genzer officially joined the team in November as the Director of Investments in the Information Technology sector. Rick's leadership skills, business acumen and deep technology experience makes him a phenomenal asset to Ben Franklin.
Jonathan Beschenjoined Ben Franklin as a Manager of the Technology Commercialization Group in November. Jon has a strong instinct for developing relationships with passionate people and finding ways to collaborate on creative ideas. He has served on many local advisory boards and is a familiar face in the local tech startup scene.
Lastly, this past December, we welcomed Tyler Cameron, who also joined the Marketing department. Tyler's role focuses heavily on public relations, social media and community development. Previously, he studied communication and business at Temple University and went on to work at a local agency before joining the Ben Franklin team.
We also promoted four existing team members into new roles. Tristan Ly, David Cohen, Elaine Fulton, and Annmarie Rutherford received promotions; and Gloria Sanschious, Omar Mencin, and Khalilah Rajis received new titles and responsibilities.
I hope you will get to meet all of these fantastic individuals over the next year.
Regards,
RoseAnn B. Rosenthal
President & CEO
---