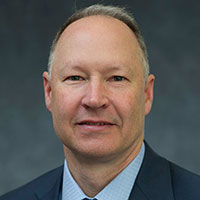 James Narron
First Vice President & COO, Federal Reserve Bank of Philadelphia
James D. Narron joined the Federal Reserve Bank of Philadelphia in April 2016 as first vice president and COO. Previously, Narron was a senior vice president and product manager at the Federal Reserve Bank of San Francisco, and senior vice president at the Federal Reserve Bank of New York. Before joining the New York Fed, Narron worked at the Federal Reserve Bank of Kansas City, the Board of Governors in Washington, D.C., and in consulting.
Narron speaks Spanish and has published a number of articles for the New York Fed's Liberty Street Economics blog. He is on the board of Ben Franklin Technology Partners of Southeastern Pennsylvania, the Sunday Breakfast Club, and previously served on the board of the Maura Clarke and Ita Ford Center in New York, as well as Chair of the board of directors for the Keep A breast Foundation.
Narron has a master's degree in international business administration from the University of South Carolina and a bachelor's degree in finance and economics from Rockhurst University in Kansas City, MO.