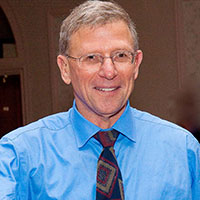 Ami Miron
President, AM Partners
Mr. Miron has 45 years of experience in leadership, entrepreneurship, technology, and business in the consumer electronics, television, telecommunication and Internet industries. In 1981, Miron joined Philips Electronics in The Netherlands, and later Philips Research in the US. He developed and patented the first commercial Picture-In-Picture (PIP) for Philips under the Magnavox brand name. In 1989 Miron was appointed development director for TV and Video Systems. He developed a system to solve the problem of ghost images on TV. Subsequently, the FCC selected this Ghost Canceling System as the US standard and it won an Emmy Award. Miron led the development of the first Digital High Definition TV (HDTV) system in the US. Subsequently, the FCC selected it as the US standard and it won an Emmy Award.
In 1993, Miron joined General Instrument Corporation (later Motorola, Google, Arris) as Vice President to lead advanced technology and new products for the cable TV market. In 1997, he left Motorola and founded MoreCom Inc. and serves as its Chairman, President and CEO. MoreCom was a software networking company, providing an integrated solution for the delivery of entertainment digital video with Internet content to a television set. Liberate Technologies acquired the privately held MoreCom, Inc. in 2000 and it was later acquired by Comcast. Mr. Miron served as its President till 2001.
Miron is the founder and President of AM Partners. He works with companies, entrepreneurs and Venture Capital funds to develop successful ventures. He serves on the board of The Ben Franklin Technology Partners since 2002 and Chairs its Investment Committee. He served as a Senior Adviser at Wharton Small Business Development Center; as Entrepreneurship Advisory Board at Columbia University; as advisor at Cornell Tech at NYC; as the Upper Dublin School District strategic planning board.
Miron attended the Israel Defense Forces Officers Academy and graduated first in his class. He served for four years (1972-1976) including during the Yom Kippur war of 1973, and in the reserves for 5 years as a Captain. He received a bravery recognition during his service. He earned a B.Sc. in Electrical Engineering from the Technion, Israel Institute of Technology, Haifa, Israel, and an M.S.E.E. from New York University, New York. He received his Professional Degree in Electrical Engineering from Columbia University, New York and an executive MBA program at Babson College, Massachusetts. He received seven US patents, and two Technology Emmy Awards.
Miron has four children: Ben MD (NYU '07; NYU Med-School '14), Jon (Cornell '10 Engineer), Michelle PhD (Colgate University '13; Columbia University PhD. 19') and David (Cornell '19 Engineer).