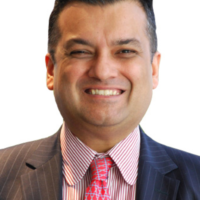 Doc Parghi
Partner, SRI Capital
Doc Parghi is a venture capitalist with operational experience running and scaling businesses globally. Doc is a Partner with SRI Capital, an early stage venture capital firm. SRI Capital provides venture funding, advice and liquidity solutions to early stage start-ups primarily in enterprise software and deep tech. Previously, Doc was the Global GM of the Mobility, Social, and IoT business unit at CSC (now DXC Technology), with complete responsibility for building the business globally. DXC (NYSE: DXC) is a $20 Billion IT services and consulting company.
Doc was on the founding team at AppLabs, the world's largest independent software testing company with over 2,500 QA professionals in US, UK and India. He helped lead AppLabs through various transformations into what became the largest company of its kind. AppLabs was funded by Sequoia Capital. CSC acquired AppLabs, providing Sequoia with a sizeable return. Doc was involved with other early stage companies prior to AppLabs including iCoop (group purchasing dotcom).
Doc received his BS and later his MBA from Drexel University.
Doc is a member of the boards at Ben Franklin Technology Partners of Southeastern Pennsylvania, Bunker Labs Northeast Region, and Drexel's Close School of Entrepreneurship. In addition, Doc is a co-Founder of Broad Street Angels and is a founding member of TiE- Philadelphia. Doc also serves as a Civilian Aide to Secretary (CASA) of the Army for Pennsylvania-East, appointed by the US Secretary of the Army. CASAs provide individual advice to the Secretary of the Army, the Chief of Staff, and commanders at all levels.