President and CEO RoseAnn B. Rosenthal honored by Pennsylvania Society as Distinguished Citizen of the Commonwealth
April 12, 2019
RoseAnn B. Rosenthal, President and CEO of Ben Franklin Technology Partners of Southeastern Pennsylvania, was honored today by the Pennsylvania Society, receiving its coveted "Distinguished Citizen of the Commonwealth" award.
The award was presented at the organization's 121st Annual Meeting and Luncheon, held this year at Union League of Philadelphia, and recognized Ms. Rosenthal's 50 years serving the growth of Pennsylvania, citing the outstanding contributions of her 23+ years of leadership at Ben Franklin Technology Partners of Southeastern Pennsylvania.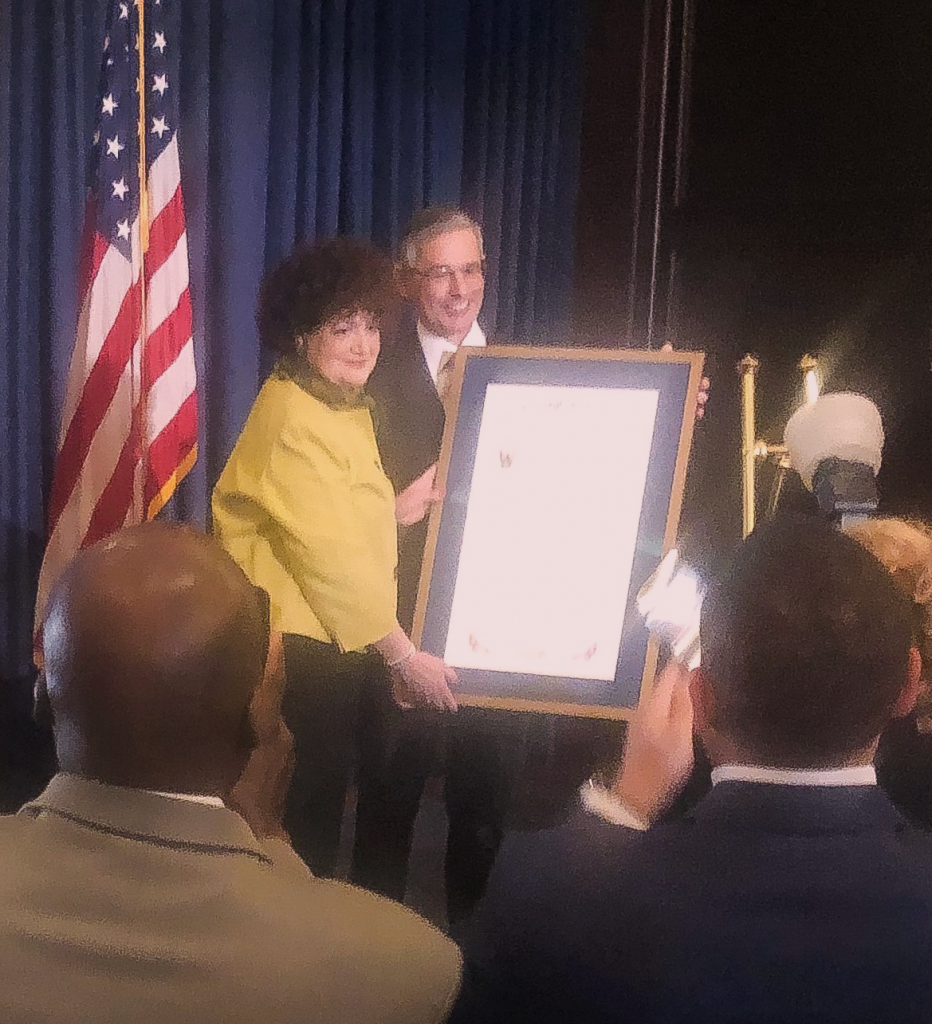 Ms. Rosenthal has been President and CEO of Ben Franklin Technology Partners of Southeastern Pennsylvania since 1996, and has been praised by regional, national and international leaders as a pioneer of public-private partnerships, while helping to launch thousands of Southeastern Pennsylvania's technology businesses and entrepreneurs. Through her leadership, the organization has grown to help create more than 2000 companies and 32,000+ jobs in Southeastern Pennsylvania, delivering a regional economic impact of more than $5.1 billion.
"In my work, I encounter, daily, men and women who have amazing vision and who are passionate about making our lives better, who are thinking about the impact beyond the innovation," said Ms. Rosenthal, in accepting the award. "Our new entrepreneurs are solving real problems, even as they are creating employment opportunities for our citizens and keeping and attracting the talent and investment to grow PA. It is through their work, with your support and investment, that Pennsylvania can be a leader in the new economy."
"RoseAnn is a most worthy recipient of this coveted award," said PA Society President Robert J. Ciaruffoli Jr. "She has been driving high-end economic development in southeastern PA for decades — paving the way for jobs and prosperity, and for other women leaders along the way."
The Pennsylvania Society is a nonprofit, nonpartisan charitable organization that celebrates service to the Commonwealth of Pennsylvania. It is the longest-lived organization of its kind in the United States, founded in 1899 and still thriving today with more than 2,000 members.
---