Local Leaders, National Topics: Women's Health Innovation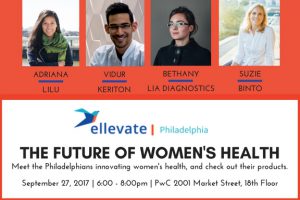 In 2015, Dan Hilferty, CEO of Independence Blue Cross (IBX), told Philadelphia Magazine that Philly could be the, "Silicon Valley of healthcare innovation." Yet the concept hinged on a few variables. According to Hilferty, Philadelphia needed buzz, seed money, aggressive talent, and public policy that attracted startups to live and build in the city. Two years later, the aggressive talent, once a centerpiece of this concept, is asking for the same things with an added ask. Local healthcare giants need to fund and drive adoption of innovation, and while organizations like IBX have stepped up to the plate with opportunities like their innovation fund, there is room for significant improvement if we want to play a role in leading a national discussion and becoming more than a blossoming entrepreneurial city.
To explore Philly's role in the national healthcare conversation (and specifically women's health), and how innovators can have a larger impact in the region, we spoke to the panelists of Ellevate Philadelphia's event: The Future of Women's Health. This group of emerging women's health founders are working to build businesses that tackle everything from building better vitamins and pregnancy tests to improving breast milk outcomes.
Speakers include: Suzie Welsh, Founder and CEO of BINTO, a women's health lifestyle company that's changing the way women take care of their reproductive health; Vidur Bhatnagar, Founder and CEO of Keriton, Breast Milk Management & Lactation Analytics for NICUs, helping babies get more breast milk and improving nurse productivity; Bethany Edwards, Co-founder and CEO of LIA Diagnostics, the first-ever, eco-friendly, flushable pregnancy test; Adriana C Vázquez Ortiz, Co-founder and CEO of Lilu, reinventing the already familiar pumping bra by embedding automated compression, to make it a product worthy of the 21st century mom.
Read the conversation below and join us for an in person conversation about the future of women's health this Wednesday.
Amanda V. Wagner, Public Relations and Community Development, Ben Franklin Technology Partners, while the national conversation about women's health has been focused on limiting resources. In Philadelphia, the discussion is centered on innovating women's health. As founders and entrepreneurs who largely contribute to that innovation, do you find that we are well positioned to lead (or in some instances, steer) the national discourse?
Suzie Welsh, Founder and CEO of BINTO, In short, yes. We have exciting companies launching in this space, and I think it speaks volumes to the direction we want the national conversation to move towards. We are adding to women's health, not focusing on taking things away.
Vidur Bhatnagar, Founder and CEO of Keriton, I agree Suzie, over the last year and a half of trying to navigate this space, I feel, being in Philly has been crucial to our journey. Philly has venture capitalists that understand, not just healthcare, but female health as an important issue.
Bethany Edwards, Co-founder and CEO of LIA Diagnostics, I believe Philadelphia can have a notable impact in steering the conversation, however in my opinion, New York is leading this conversation.They are starting bold conversations that are generating questions and intelligent discussions around the broader topic of women's health, wellness, and rights. And in this sense, I see them leading the conversation. That said, I think Philadelphia—with CHOP, Jefferson, Penn, and its concentration of university and hospital resources combined with healthcare and life-science funders—is well-positioned to lead initiatives and scientific advancements around prenatal, maternal, and infant care. This influx of scientific knowledge in the OBGYN space gives us a unique opportunity to help foster better, and more data-driven, conversations around female reproductive and sexual health. By disseminating this scientific information to the broader public, we can help educate and facilitate what New York is leading.
Adriana C Vázquez Ortiz, Co-founder and CEO of Lilu, Yes, absolutely. I belive Philadelphia is already a leader in national health innovation. The next step, which is to innovate in the women's health space, shouldn't be a difficult one given how driven the Philadelphia entrepreneurial community is to innovate in this space. Besides the founders in this round table, we have encountered many other entrepreneurs like Dana Donofree from AnaOnno, Yasmine Mustafa from ROAR, and more, which to us speaks volumes about how Philadelphia is buzzing with energy and motivation to make an impact in women's health. What Philadelphia will require, is to lead much more than the national discourse, but to lead the implementation of the innovations by facilitating the entire entrepreneurial ecosystem necessary to do that.
AW: You're right, Adriana, there's a point when discourse must become action. Vidur, you mentioned that Philly has been crucial to your company's journey, what about the city has been vital?
VB: I'll give you an example, while we were fundraising for our seed round, I met with investors from the East Coast as well as the West Coast. Their thought process was very different, and the West Coast was more focused on receiving quick returns on their investments. I realized that raising money on the West Coast, for what we were trying to achieve, was not possible. What we were trying to achieve would take time, and it did take time to set our system up, but now the results we are seeing are phenomenal. It was a very patient, and triple bottom line focused,  East Coast venture capital approach that helped us succeed. We would not have sustained had we not raised money locally. Also, the best venture capital meetings I've had were here at home. Our venture capital firms have scientific backgrounds, (e.g. BioAdvance, Ben Franklin, Safeguard, etc.), which makes a difference.
AVO : I've had a different experience,  we've had conversations with potential investors around the country, Philadelphia included. But to be quite frank, we had a much more positive response outside of Philadelphia, so we ended up taking initial investment from a pretty international venture capitalist that has a great deal of experience investing on early stage hardware startups. We were surprised to find out that they actually have (and continue) to invest in a lot of Philadelphia startups, which to me, speaks to the great potential for a larger entrepreneurial ecosystem in Philly. We are excited now to be back in Philadelphia and continue some of the conversations that we started because the interest was there. Judging by the incredible cohort of entrepreneurs innovating for women's health space, we believe Philadelphia is the right place to be for a company like Lilu.  
SW: To build off of Vidur's example, I think Philadelphia has always been strong in the life-science investor sector. Before starting BINTO, I worked as a women's health nurse in the NICU, postpartum, fertility, and IVF for over six years. What I noticed throughout my time working in maternal health in Philadelphia is that we have 1.) a lot of working women, and 2.) a lot of young couples moving to the city. Those two facts set us up for success.
AW: And those a really important points, Suzie. We've established that Philadelphia is well positioned to steer or contribute to the national conversation because of our growing population, institutional support, and triple bottom line focused venture capitalists. With this foundation, how can we have a larger impact?
AVO: Having both lived in New York and Philadelphia, I believe that both cities can create a synergistic collaboration. If one leads in discourse, another can lead in action, I really like Bethany's point earlier about data-driven conversations: dialogues about issues centered around women's health can become all the more powerful by complementing them with data to back them up. Philadelphia, with its vast network of hospitals and universities and its diverse local population, is in an excellent position to, not only lead the national discourse on women's health, but to generate more research and data. This in turn, can help entrepreneurs, health professionals, and advocates for women's health issues, have more impactful conversations.
BE: On this subject, I would mention again, that I see New York taking the lead in the national conversation. However, Philly does have an opportunity to help facilitate this national conversation and if it wants, led a charge in disseminating knowledge around women's health.
SW: If you look at the companies here in women's health, we are all about disrupting and adding value to women. We want to make women's health easier, accessible, and we want to support the average, working women. We understand our current customers, we understand the value of supporting women, but what we need is for Philadelphia's other institutions (i.e., corporate) to come on board as buyers and support the innovators here in the city.
VB: Another pain point to add, being in a city that is still a "budding-entrepreneur" itself has its challenges. It is not like being in Boston, New York, or San Francisco where you have easier access to capital and/or talent—This is why a lot of series A level companies find it difficult to sustain growth in our ecosystem
AVO: I agree with Vidur's point in terms of access to capital and talent. But in many ways, it always felt that the Philadelphia entrepreneurial community was very supportive, much more than say, New York or in the Bay Area, where a lot of the resources are hogged up because everyone there is an entrepreneur. I remember reaching out to various lactation consultants in the Bay Area and many of them wanted to charge us for even speaking with them. In Philadelphia, that was never the case.
BE: I would agree, Philly is currently up-and-coming as an entrepreneurial city, so that's somewhat to be expected. It's also what makes it exciting. We have an opportunity to mold it, to create it, to show and remind people that we are a city founded by founders.
---