Wistar Helps Community College Grads get Hard-core Science Jobs

Amanda Moran, 26, spends her days in love with cells, research and science and in love with wearing a white coat and fighting cancer — not with fists up, but with her head bent down over a microscope.
"My mom died of breast cancer when I was 14," Moran said, taking a break at Wistar Institute, where her work as a biomedical technician helps in the basic science behind cancer research. "If I could, I'd like to help people not have to go through what I went through."
Moran was introduced on Tuesday to Mayor Kenney and Pennsylvania Labor and Industry Secretary Kathy Manderino as Exhibit A of the kind of person Wistar hopes to enroll in a first-of-its-kind apprenticeship program.
Apprentices in Wistar's program, which was just accredited by the state of Pennsylvania on May 11, will build on the institute's existing biomedical technician training to give apprentices more hours of on-the-job experience, as, and after, they complete an associate's degree at Community College of Philadelphia.
The program follows the traditional apprenticeship mix of classroom training and hands-on experience, but instead of apprentices becoming adept at hanging drywall and installing windows as they do in the building trades, they will be able to run laboratories as biomedical research technicians, working under the direction of scientists.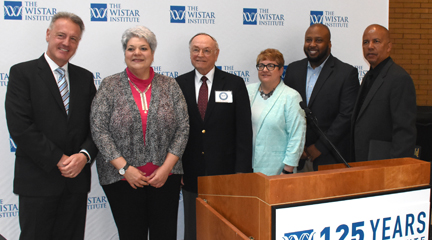 Moran and her fellow biomedical technician, Maya Thorn, 32, who talked to Kenney and Manderino about her research work on an HIV vaccine, are typical of the students that the program hopes to enroll. Moran worked for years as a waitress, and was financially independent at age 18. Thorn, an African-American, is an older student, and part of Wistar's push to bring more diversity to the sciences.
So far the program has just one apprentice enrolled — Nina Ibeme, 50, a Russian immigrant who studied chemistry in Russia, but never had the opportunity to apply her knowledge there. Wistar expects to shepherd three to five students a year through the program, recruiting them from the existing two-year biomedical technician training program that Wistar started 17 years ago. About a dozen participate each year.
The program was started by Wistar's director of outreach education and technology training programs, William Wunner, to solve a workforce problem at Wistar. The institute would train technicians, only to lose them to private industry, so the institute decided to develop its own technician pipeline. Wistar partnered with CCP, which provided classroom training and an associate's degree.
Anthony Green, vice president of Ben Franklin Technology Partners, said the biotech start-up community needs both the apprentices and the apprentice graduates. The biotech scientists in their small start-ups have the brains and the vision, but as they grow just beyond the fledgling stage, they need someone with biomedical research and technical skills to keep their labs running.
Read the full article here.
---