Why Mentors Matter in Entrepreneurship… And How to Find Them

Thomas Jefferson and George Wythe. Warren Buffett and Benjamin Graham. Marc Benioff and Steve Jobs. Alone, these individuals are staples in American innovation and ingenuity. Together, however, they are the dynamic duos that embody the impact that mentors have on entrepreneurs.
According to a 2014 survey by The UPS Store, 70 percent of small businesses that receive mentoring survive more than five years. This is double the survival rate of non-mentored businesses. That same survey showed that 88 percent of business owners say having a mentor to lean on is "invaluable."
Just as Wythe instructed Jefferson, just as Graham influenced Buffett, and just as Jobs inspired Benioff, all entrepreneurs need the guidance of leaders and experts in order to effectively bring ideas and inventions to market.
Here are a few ways to get connected with a mentor:
Organizations and Networking Events
Becoming a part of organizations and attending networking events is crucial for any business person.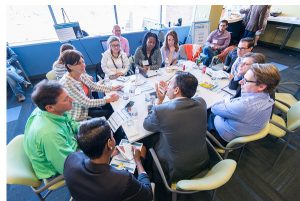 It's invaluable to create organic relationships with like-minded individuals and expand connections. Through these organizations and networking events, entrepreneurs can meet mentors, or meet people who have been or are being mentored.
There are many professional organizations and societies that have an obligation to mentor their own members. Examples include the Association of University Technology Managers, the Philadelphia Chapter of the Licensing Executives Society, and the Pharmaceutical Consulting Consortium International.  Furthermore, the region's Life Science and Digital Health community has many avenues for engagement with colleagues—The Philadelphia Healthcare IT Circle, Philly BioBreak and other programs sponsored by LifeSciences PA and PACT.
Attorneys have similar organizations, like the American Intellectual Property Law Association, where entrepreneurs can stay informed about the latest developments in intellectual property standards, laws and policies, while also being mentored by legal professionals.
There are also countless networking events going on in Philadelphia all the time. Philly New Technology Meetup hosts monthly meetings with speakers and plenty of options for networking with the Philadelphia entrepreneurial community. Quorum at the University City Science Center also has a multitude of events that entrepreneurs can attend.
Social Media
Connect with fellow entrepreneurs and successful leaders in your industry on social media, especially Twitter and LinkedIn. There is a strong tech community on both of these channels; however, you just have to know where to find it. Following industry influencers like Safeguard Scientifics, Innovation Center at 3401, and Technically Philly will allow you to be in-the-know about what's going on in the city and how you can be a part of it in order to learn all you can.
The Competition
You can learn the most from your competition. Maybe not the companies that are doing the same thing as you, but look into companies in the same industry that might be targeting a different segment. Not only can you learn from them, but you can also open up the door to potential partnerships down the line.
Collaborative Initiatives
There are many collaborations throughout the area that facilitate group discussions and mentorship.
One example would be StartupPHL. The effort between the City of Philadelphia's Department of Commerce and PIDC aims to be the Gateway to Philly Tech. The initiative connects many people, places and events related to the startup scene in the city.
Another example is Philly Startup Leaders. The all-volunteer, grassroots organization is comprised of some of the most prominent names in the community. It was founded on the belief that startup entrepreneurs need each other; thus, members of PSL share advice, connections, and resources for fellow entrepreneurs.
Last, but certainly not least, is our own Mentor Connect program in collaboration with PACT. The program is a node of the well-established, well-respected MIT Venture Mentoring Service.

The program, which is free, confidential and conflict-free, partners entrepreneurs  from the Ben Franklin portfolio and PACT member companies with expert mentors from the region in a team environment to help grow entrepreneurs and their businesses. The mentors are all volunteers from the technology community who bring a wealth of entrepreneurial experience and contacts across a broad range of industries and markets. In short, they've done it. Through Mentor Connect, mentees can receive practical hands-on advice from teams of 2-5 mentors tailored to each venture's needs.
This is hardly an exhaustive list of programs and resources for mentorship, so, we'd love to hear about any other methods you've used to find a mentor (or mentee). Let us know in the comments or on our social channels!
---