Ben Franklin Portfolio Companies Are Headed to SXSW 2017

It's all coming together for Philly's second-annual presence at South by Southwest (SXSW) 2017. Led by the effort called Amplify Philly, 19 Philly-area companies have signed on to exhibit at Austin's week-long megaconference, including many of our own portfolio companies.
The interactive trade show known for being one of the most diverse, collaborative, and inventive communities in the world. This year, it will take place from March 10-19 in Austin, Texas.
In 2016, the team behind SXSWPhilly wanted to come up with a new look for Philadelphia. Thus, Amplify Philly transpired, a campaign that hopes to paint Philadelphia as the next great place to start a business.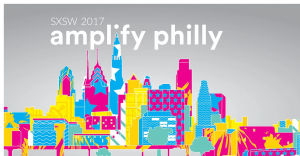 Up until last year, companies from Philadelphia found their own ways to the trade show. Then, Amplify Philly and SXSW Philly changed that.
In order to facilitate Philly's presence at SXSW, Amplify Philly, in coordination with SXSWPhilly, raised $91,000 from local sponsors. As a result, a portion of that fund was designated to help pay for travel costs of exhibiting companies.
Now, it's Amplify Philly's second go-round. This time, the team is backed by a war chest of $140,000 from 15 local sponsors. Thus, this November, startups were able to apply for one of 10 grants worth $1,700 to help out with exhibitor's fees.
"We're honored and excited to bring together such a diverse group of people and industries to represent Philadelphia down at SXSW," said Philly Startup Leaders' Yuval Yarden, who also runs Amplify. "Philadelphians are constantly talking about raising our national presence, and Amplify Philly is the platform that helps us and our partners put our money where our mouth is and begin to work towards that goal."
Presently, six Ben Franklin portfolio companies are headed to the festival as exhibitors:
Additionally, other local exhibiting companies include: Stratis, SafeStamp, Boost Linguistics, MLeads, Oat Foundry, BioRealize, Comcast, Zivtech, Chariot Solutions, Penn Booth, Iqinetics, Neuroflow and Contap.
We're happy to be one of the 15 companies who pitched in cash for the $140,000 Amplify Philly fund. Other contributors include: Comcast, the University City Science Center, Guru, Startup PHL, Chariot Solutions, Children's Hospital of Pennsylvania, Zivtech, the University of Pennsylvania, Temple University, VisitPhilly, Philadelphia Convention & Visitors Bureau, Brandywine Realty Trust, Safeguard Scientifics and CoStar360.
Read the full article at Technically Philly.

---