AWE Ventures Founders Celebration: Momentum is Building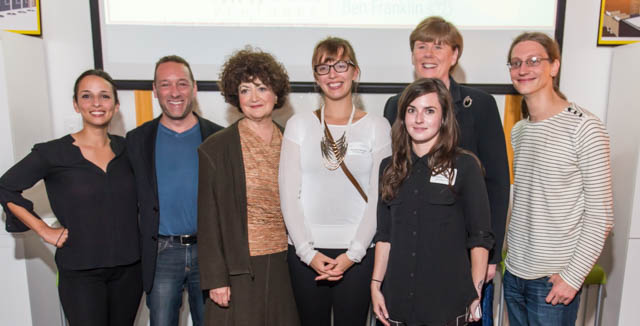 On Thursday, Oct 8th, energy was high at Benjamin's Desk as the Alliance of Women Entrepreneurs and Ben Franklin led the Founders Celebration event for contributors to AWE Ventures – Powered by Ben Franklin, the donor-driven capital pool and mentorship/education program for women-led startups and women in investing.
An AWEsome Roll Out
Anchored by its founding contributors Penn Mutual, PACT, Benjamin's Desk, Safeguard, and Charisse Lillie, in just four months AWE Ventures has rallied its community to raise over $100,000 in for the investment pool, to match the $250,000 committed by Ben Franklin. "When AWE Ventures rolled out four months ago" smiled Joan Waters, Executive Director of AWE Ventures and CEO of furniture company COFCO, "We would have thought a $105K goal [by October] was unrealistic, but now I realize, we've only just begun!"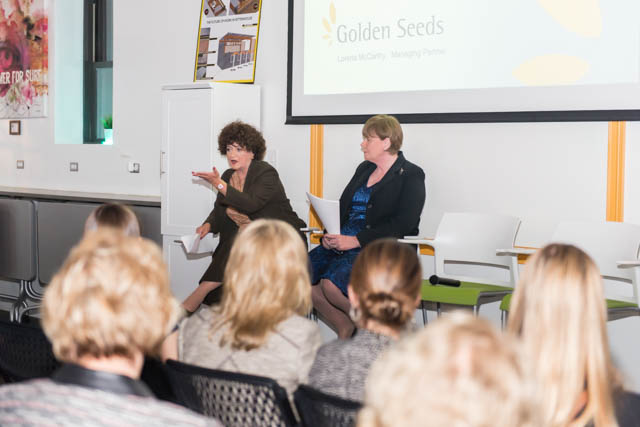 Joan thanked Ben Franklin President/CEO RoseAnn B. Rosenthal and the Ben Franklin team; "They have had such an important impact on angel investing in the region and we are so lucky to have them as a partner."
RoseAnn took the stage and thanked AWE, a long-standing partner, for giving her organization a chance to achieve their mission as a partner with a purpose. Said RoseAnn to an audience full of aspiring women angel investors,"We believe there is a lot we can do to bring more women into the fold. If we want to grow the community, then it's our role to support other women entrepreneurs as coaches, investors, and connectors."
Without a doubt, this initiative is truly a community effort. From large corporations such as Penn Mutual to community organizations like PACT and Benjamin's Desk; from Venture capital firms like Safeguard Scientifics to individual angels like Charisse Lillie; it's clear Philadelphia as a whole is excited and ready to support the growth of women in entrepreneurship in our region.
"This initiative really brings the importance of AWE to whole new level. We are so excited to be able to expose entrepreneurs to angel investors and bring real true process and dollars," said Joan as she closed out the first part of the evening.
Getting Women Off the Bench
Following opening remarks, keynote speaker Loretta McCarthy, Managing Partner Golden Seeds New York took the stage and spoke about the state of women in entrepreneurship and investing. She framed her comments with a quote from President Obama, as delivered at this summer's Global Entrepreneurship Summit: "If you have a football team, and half of it is on the bench, you have a problem."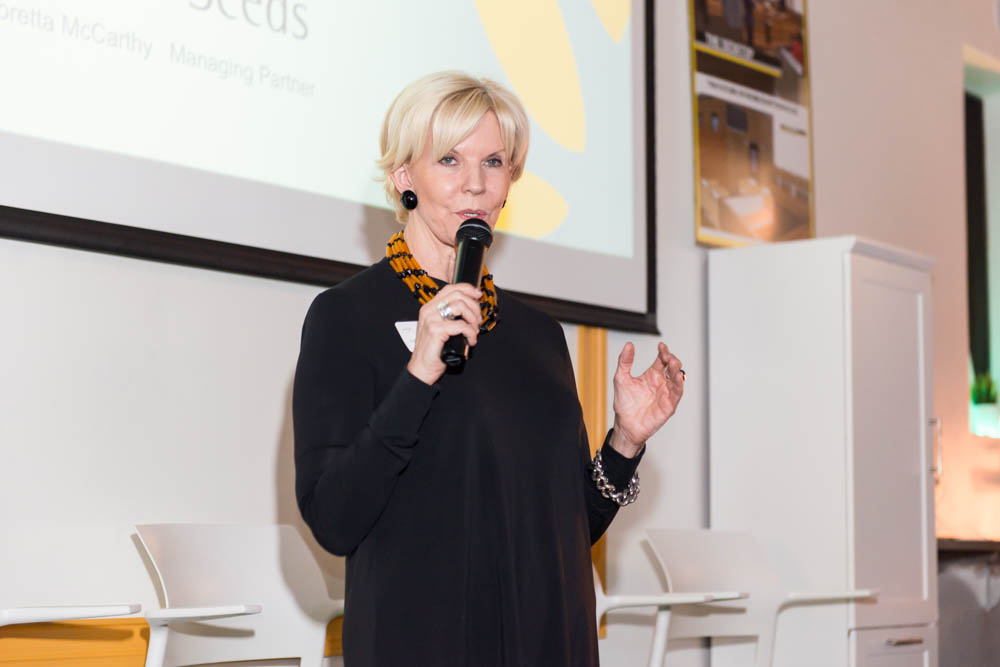 Some key takeaways from Loretta's presentation:
In 2004 women were starting about 40% of the companies in this country but only 3% of them were getting funded. In 2014, 28% of funded companies were women-owned.

In 2004, there were 10k women investors around the world. In 2015, 85k women internationally consider themselves angel investors.

Women make up 50% of all startup entrepreneurs. They create 1,200 businesses a day, (300,000 a year).

From First Round Capital's recent blog post, we learned that teams with diverse teams (with at least 1 female founding member) outperformed exclusively male founding teams by 63%.
What's encouraging about the growth trend is that most of the increase has been made since 2011. Though there's more to be done, momentum is building.
McCarthy also cited McKinsey stats indicating that organizations with gender diversity in board and executive teams out produced all-male teams with higher stock performance (+20%) and better returns on equity (+44%) and earnings (+55%).
The night ended on a high note with a short panel moderated by Katherine O'Neill of Jumpstart New Jersey, highlighting AWE Ventures' first companies for investment  Panel participants included Morgan Berman (founder of My MilkCrate), Anthony Gold (Co-founder of ROAR for Good), and Bethany Edwards (Founder of LIA Diagnostics).
More AWE Ventures programming and events will come from the Alliance of Women Entrepreneurs and Ben Franklin in the months ahead, so stay tuned for updates. Contributions to the investment pool are still welcome!
---