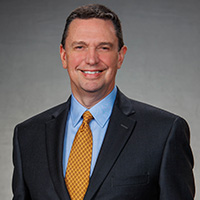 William G. Kiesling
Chief Operating Officer and General Counsel
Bill Kiesling is Chief Operating Officer and General Counsel at Ben Franklin, where he leads the organization's operational excellence, guided by an understanding of the organization's mission, history, and its ongoing legal and regulatory needs. He has oversight responsibility for Ben Franklin's administrative, human resources, building operations and information systems functions.
A business executive and advisor partnering with his colleagues to advance Ben Franklin's mission and to ensure the organization's effective, efficient and sustainable operations, his key professional experience includes 25+ years of in-house legal experience with organizations including CSS Industries and Aramark, with extensive experience in mergers and acquisitions, strategic planning, project management, and collaboration with high-performing leadership teams. He brings significant expertise working with boards, including almost 15 years as general counsel for a NYSE listed company and as board chair and board member for various not-for-profit organizations.
Bill holds a Doctor of Law degree from the Georgetown University Law Center, and a Bachelor of Arts degree in political science from the University of Pennsylvania.
215-972-6700 x3084
bill.kiesling@sep.benfranklin.org