Biomeme Expands from NextFab Incubator
Joseph N. DiStefano | May 27, 2014 | Philadelphia Inquirer
Biomeme Expands from NextFab Incubator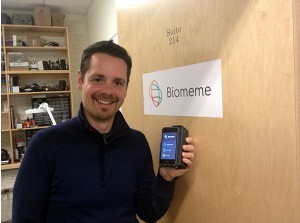 Biomeme, a four-person start-up operating out of Evan Malone's NextFab cool-tools members' workshop on Washington Ave., has raised $1.9 million in funding for its DNA analysis-on-your-smartphone development project, partly from NextFab itself, Malone tells me.
The firm has also been backed by DreamIt Health and the Pa.-taxpayer-funded Ben Franklin Technology Partnership.
Now Biomeme plans to move to larger quarters — including a lab and manufacturing line — on "N3RD St.", the tech hub of start-up companies and independent software developers that has developed around 3d and Market Sts. in Old City, founders Jesse vanWestrienen and Marc DeJohn said in a statement.
At least two more NextFab firms — Infinite Invention and Love Park Robotics — are likely to outgrow the "incubator" of NextFab dependence and move to their own quarters in the near future, Malone added. See also White Space Labs and Top Banana Screen Printing. In all, Malone says firms started at NextFab have raised nearly $4 million in investment capital and employ about 25 skilled workers. The business moved to Washington Ave. from the University City Science Center in late 2012, more on that here.
---