Chester County launches "Venture Chesco" Fund to encourage development of start-up companies
Chester County Retirement Board and Ben Franklin Technology Partners of SE Pennsylvania partner in $4 million fund.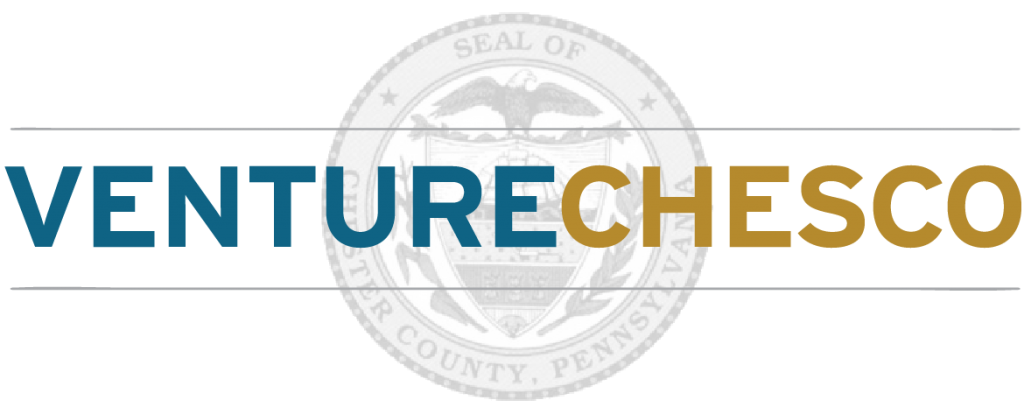 WAYNE, PA (April 17, 2018) – The Chester County Retirement Board and Ben Franklin Technology Partners of Southeastern Pennsylvania (Ben Franklin) today launched Venture Chesco, an initiative investing up to $4 million in emerging and growing companies located in Chester County.  The partnership, announced at Evolve IP headquarters in Wayne, includes $2 million in County funds matched by $2 million in Ben Franklin funds that will be used to invest in new technology companies and existing companies looking to apply new technologies to their business operations.  
Chester County Commissioners' Chair Michelle Kichline, one of the five members of the Chester County Retirement Board commented:  "Chester County has a long history of growing strong technology companies.  From QVC to Shared Medical Systems, and from Centocor to Vanguard and Evolve IP, we have seen small start-ups apply innovation and new technologies and grow to employ thousands of county residents.
"We are pleased to be able to join with Ben Franklin to bring even more of their knowledge, experience and resources to bear on growing young technology companies here in the county."
The Chester County Retirement Board members include the three Chester County Commissioners, County Treasurer Patricia Maisano and County Controller Margaret Reif.  The Board's commitment to this partnership with Ben Franklin is a direct result of the goals set for the County's 10-year economic development strategy, VISTA 2025, specifically to "Improve access to capital for start-ups and early stage business ventures."  The funds allocated by Chester County represent a small percentage of the overall pension fund, valued at $431 million in December 2017.
"Venture Chesco fills a critical early stage funding gap in the growth cycle of Chester County's young companies and companies looking to apply technology to improve business performance," said Chester County Commissioner and Retirement Board Member Kathi Cozzone. "Based on Ben Franklin's successful history, we expect to get two things from this new endeavor – a reasonable return for the pension fund and the ability to help grow the next generation of Chester County companies."
Under the terms of the partnership agreement, Ben Franklin will use its proven experience to help identify companies and technologies suitable and appropriate for funding, and will manage the process of assessing the companies and the technologies for possible investment from the Venture Chesco fund.
Terence Farrell, Chester County Commissioner and Retirement Board Member, noted:  "We are very pleased to be able to add this critical piece of financing to an already strong entrepreneurial ecosystem here in Chester County. Adding this new source of capital to the ongoing efforts of our county incubators and accelerators positions us very well to continue to be a prime location for innovation, entrepreneurship and growing young companies.
"It is our hope that young entrepreneurs will take advantage of this new funding source to start and grow their company within Chester County."
"This partnership will bring more support and critical investment capital to innovative technology enterprises in Chester County," said RoseAnn B. Rosenthal, President and CEO of Ben Franklin.  "It builds on consistent, dedicated efforts in support of smart growth strategies by many of Chester County's leaders over the years.  In bringing capital, counsel and connections to its growing enterprises, we're proud to invest in the county's innovation and entrepreneurial ecosystem."
###
Chester County is the first county in Pennsylvania to initiate a strategic planning process and has a Aaa rating on its bonds from Moody's Investors Service as well as AAA ratings from Standard & Poor's and Fitch Ratings.  Established by William Penn as one of Pennsylvania's three original counties, Chester County has been named by Forbes.com and Movoto.com as one of America's best places to raise a family and is ranked the healthiest county in Pennsylvania by the Robert Wood Johnson Foundation and the University of Wisconsin Population Health Institute.
About Ben Franklin Technology Partners of Southeastern Pennsylvania
Ben Franklin is the most active early stage capital provider for the region's technology sectors. Ben Franklin combines best practices of venture capital with a public-spirited purpose: leading the region's technology community to new heights, creating jobs and changing lives for the better. Ben Franklin is an initiative of the Pennsylvania Department of Community and Economic Development and is funded by the Ben Franklin Technology Development Authority. www.sep.benfranklin.org
---