PeopleLinx Just Got Acquired. Here's a Look Back at its Final Stages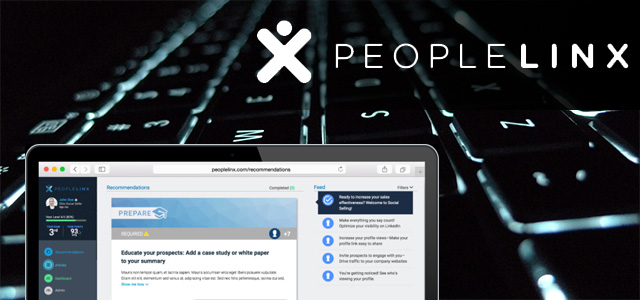 PeopleLinx CEO Kevin O'Nell announced the news in a blog post published Wednesday, just as the company was getting ready to showcase its tech (and open jobs) at Philly Startup Leaders's annual Entrepreneur Expo.
Huge Announcement by @PhillyMayor @PeopleLinx acquired by @sellmoreperiod #SocialSelling @PHLBizJournal @startupleaders @StartupPHL #Sales pic.twitter.com/qaYXkGFXYY

— Peter Strid (@PeterStrid) May 3, 2017
"Our team is excited to have joined an organization that so closely aligns with our vision of making sales professionals successful," O'Nell said in the article.
No financial terms were immediately disclosed, O'Nell told Technical.ly. He did mention that, as part of the deal, investor Osage Partners obtained a seat on the board of FRONTLINE Selling. PeopleLinx also counted another local investor among its rank: MissionOG.
The company's team of 10 will remain in Philadelphia. (PeopleLinx has significantly winnowed down its team in the last three years — it employed 30 in 2014.) No layoffs to report, as the Georgia-based company hired the full staff lineup. Though the team is currently based out of the Cira Centre, instead of its former Center City headquarters, O'Nell said the company will be looking to move into a coworking space. Maybe WeWork, O'Nell said.
So, as we often ask exiting entrepreneurs, was this the exit O'Nell had hoped for when he became CEO in 2014? He conceded the end result was "not that straight of a line" as previous experiences (he was the CTO of Ecount when it was acquired by Citi in 2007 for $220 million) but that PeopleLinx's original investment thesis was counting on an open API from social networks like LinkedIn. As we know now, the company was forced to change.
---