FDA Green Lights First 3D Printed Drug From Ben Franklin Alum: Aprecia

The U.S. Food and Drug Administration (FDA) approved Aprecia's Spritam, 3-D printed drug used in the treatment of partial onset seizures, myoclonic seizures and primary generalized tonic-clonic seizures in adults and children with epilepsy.
Spritam uses Aprecia Pharmaceuticals Company's proprietary ZipDose Technology platform that includes three-dimensional printing (3DP) to produce a porous formulation that rapidly disintegrates with a sip of liquid. Aprecia said a recent survey showed 15 percent of epilepsy patients age 65 and older reported trouble swallowing their medication. Don Wetherhold, Aprecia's chief executive officer, said in a statement that Spritam is "designed to fill a need for patients who struggle with their current medication experience."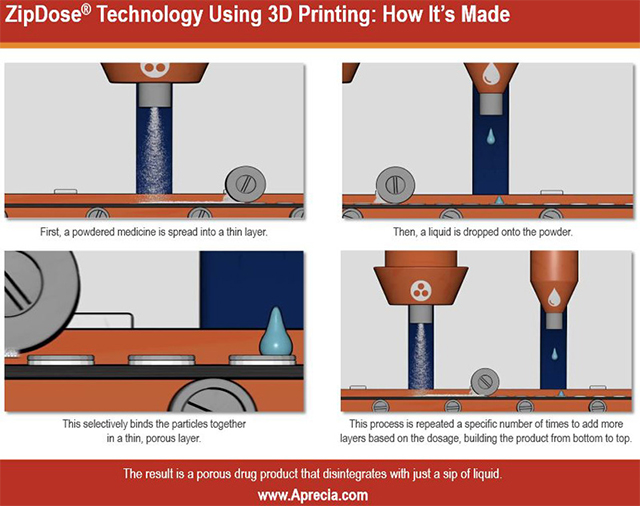 Spritam is the first drug in a line of central nervous system products Aprecia plans to introduce, Wetherhold added. The drug is expected to be commercially available in the first quarter of 2016.
Marvin H. Rorick III, M.D., neurologist at Riverhills Neuroscience in Cincinnati, said getting patients to follow the treatment regimen can be difficult due to swallowing issues. He said it's important for patients to follow the treatment regimen and the easily dissolved Spritam will make it easier for patients to adhere to their treatment plans. Patients with poor adherence to epilepsy drugs are more likely to have a breakthrough seizure. In one survey completed by patients, 71 percent acknowledged having forgotten, missed or skipped a dose of seizure medication at some time, and almost half reported having had a seizure after a missed dose at some time during treatment.
Aprecia built its ZipDose platform using 3-D printing technology that originated at Massachusetts Institute of Technology (MIT), The technology allows the company to produce fast-melt formulations of medicines that exceed the disintegration speed and dose-load capacity of products made by other fast-melt technologies, the company said in an announcement.
Spritam is made by printing layers of the powdered drug together, then removing excess powder before packaging, which makes it easier to dissolve, the company said.
In addition to the ease of taking the drug, Spritam is individually packaged per dose level, which makes it easy to adhere to the treatment even when on the go, Aprecia said.
Approximately three million people in the United States have been diagnosed with epilepsy. Of those, an estimated 460,000 of those cases occur in children. There is no cure for epilepsy, but several drugs are prescribed to keep the symptoms under control, including Pfizer's Lyrica.
Aprecia said the FDA's approval marks the first time such a 3-D printed drug has been approved using the ZipDose technology.
Aprecia said it will use 3DP as a catalyst to develop medicines that rapidly disintegrate with a sip of liquid, even at high dose loads. The ZipDose technology enables the delivery of up to 1,000 milligrams, in a single dose.
In addition to the ZipDose platform, Aprecia's other products include CustomRelease, which provides time-release options for drug delivery; NanoDose, designed for products requiring submilligram doses and ImplantaDose, which is used for management of infections and pain following surgery.
---