A less frustrating customer service call? Yes please!
This Philly startup is using live video to enhance customer service calls
Livegenic aims to make calling in insurance claims much less frustrating.
"Have you tried turning it off and on again?"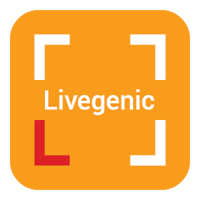 It's a question we're asked in many a customer service phone call. For good reason, too: it's a starting point. The rep on the other side of the line can't see what you're looking at, so they need to start with the absolute basics.
But what if they could see what you see? That's where Livegenic comes in.
The Venturef0rth-based startup was founded by friends Olek Shestakov and Alex Polyakov. Livegenic — like photogenic — is a mobile app that allows customers to stream video from their phones directly to customer service representatives, all while keeping the phone call going.
"We're not a single solution for a specific industry," Polyakov said. "We're a uniform visual platform to enhance existing phone conversations." Right now, the startup is focusing on the claims and insurance industry.
"It's an interesting industry because everybody is using claims and insurance," Shestakov said. "People always complain the process is slow, that there's no way to accelerate it."
Say, you wake up the morning after a thunderstorm to find your 2002 Hyundai Elantra pancaked by the lone tree on your block. Instead of trying to describe and explain the scenario to your insurance agent, you can simply stream live video to their computer while simultaneously speaking with them over the phone.
Here's how it's supposed to work:
Awful catastrophe happens.
You call your insurance.
Insurance rep sends a download link in a text message to your smartphone.
You click the link, download the app, enter the key given to you by your rep and open the app.
With the app, you stream video and take high-res snapshots.
You feel you made the best of a terrible situation.
As of now, about 90 percent of Livegenic's business is coming from claims and insurance, but the company also services call centers and hopes to expand to power and utilities. Meanwhile, the claims and insurance industry is just warming up to the idea.
According to Polyakov, a single dispatcher or adjuster in the field can cost an insurance company anywhere from $200-$700 per visit. Livegenic charges a flat monthly service charge, which includes data storage, archiving and retrieval from the cloud.
"We can help not just insurance carriers, but consumers," Polyakov said. "After all, we're customer service experts."
It's true. Beyond owning a business together, Polyakov and Shestakov have a lot in common. Both have history in IT and customer service. Both are from Ukraine. And both love soccer. Actually, that's how they met almost four years ago.
Shestakov was just skating off the RiverRink by his home in Penn's Landing. Alex and his wife were entering. "I was wearing the scarf of my favorite soccer team [in Kiev], he was wearing the scarf of his favorite soccer team [in Kharkiv]," Shestakov said.
"He points at me, I point at him," Polyakov said. "It was pretty serendipitous."
Since then, Shestakov has become the godfather of Polyakov's daughter. That, said Shestakov, is why the two call Livegenic a "family business." And it's finally paying off.
Livegenic just raised its first round of capital, including investment from Ben Franklin Technology Partners. Those funds will be injected into sales and marketing efforts. "We're honored to be recognized as one of the growing companies in this area," said Polyakov.
"Through Livegenic, we help customers, consumers, businesses — but also, we're doing it for our families," said Shestakov. "We've been very inspired to build the technologies to help people and to do something good for our families together."
---