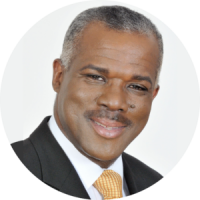 Orim Graves
Board Chair—CFA, David Hill Group
Orim Graves is a visionary leader and proven advisor, guide, and implementor of evolutionary growth and transformational change within investment organizations. As the Executive Director of the National Association of Securities Professionals (NASP) for more than ten years, he revolutionized the organization while architecting the vision, strategy, and execution for NASP's mission of promoting diversity, financial education, investment, and advocacy across the financial services sector. Currently Orim operates an independent consultancy to provide strategic and tactical investment advisory services, ESG integration, market strategy, and diversity equity and inclusion consulting to diverse clients across the global investment sector.
Mr. Graves has more than thirty years of experience in the investment, pension, banking and financial services industries. Recognized as a strategically and analytically effective leader with sound business and investment acumen, an extensive professional network, expert in diversity and inclusion, and the ability to develop and implement effective strategies.
Prior to joining NASP, Mr. Graves was a partner at an investment firm responsible for the firm's performance evaluation, reporting and risk analysis and was a member of the Investment Committee. Mr. Graves also has held positions as a senior member of a leading investment consulting firm, where he provided investment counsel to a number of institutional clients across the country. He specialized in introducing new alternative strategies and innovative managers to the firm's client base.
Before his work in consulting, Mr. Graves served as deputy chief investment officer for the City of Philadelphia Board of Pensions and Retirement where he provided expertise in investment performance attribution and evaluation, as well as asset allocation strategies specializing in non-traditional asset categories. In addition to his consulting and plan sponsor experience, Mr. Graves previously served as an analyst in the gaming industry and as a fixed income trader for a major multi-national bank.
Mr. Graves currently serves on numerous boards including Dillard University, a historically black university, Ben Franklin Technology Partners and Investment Committee Police and Fire Retirement System City of Detroit among others. Mr. Graves also serves on the CFA Institute's Diversity and Inclusion Steering Committee and working group. Mr. Graves earned his Bachelor of Science in Finance from Hampton University and an MBA in Finance from the University of Wisconsin. He is a CFA charter holder.