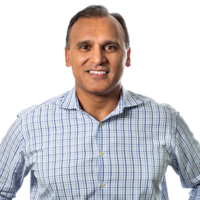 Bob Kothari
Chief Revenue Officer, Trax Retail
Bob has recently joined the management committee of Trax Retail as its Chief Revenue Officer.  In that role, Bob will be responsible for all new and existing customers in the Americas, Europe, Chinam and Southeast Asia.  Bob is responsible for the company's go-to-market and manages a team of sales, sales engineers, and customer success managers.
Prior to Trax, Bob was a Managing Director at Accenture and served as the business process services leader for Products North America.  Products is one of Accenture's largest operating units globally and largest in North America.  In this role, Bob led a team of professionals in the growth of the Finance & Accounting, Procurement, Sales & Marketing, Human Resources, and Supply Chain businesses serving the consumer products, retail, life sciences, industrial, and travel & hospitality sectors.  Bob also managed an incubator at Vanderbilt University where Accenture sought to innovate new offerings.
Prior to Accenture, Bob was a founding member of Procurian, a leader in the procurement outsourcing market.  He was responsible for leading the development and execution of the company's go-to-market strategy and sales & marketing efforts.  Bob was an Executive Team member and helped lead the sale of Procurian to Accenture in 2013.  The sale was the largest acquisition made by Accenture in its history.  Prior to Procurian, Bob was a Principal at A.T. Kearney based in New York.
Bob earned a Master of Business Administration from the University of Pennsylvania's Wharton School, a Master of Environmental Management degree from Duke University, and a Bachelor of Arts degree from Franklin & Marshall College.
Bob is a member of the Board of Directors of the Ben Franklin Technology Partners, a public-private partnership funding early stage companies funding to stimulate job creation in the State of Pennsylvania.  Bob is also a Charter Member of the Philadelphia chapter of TiE, a global entrepreneurship organization, and on the Board of Philadelphia Youth Basketball.