Updated: Ben Franklin Approves $2.8M for Sixteen Early-Stage Companies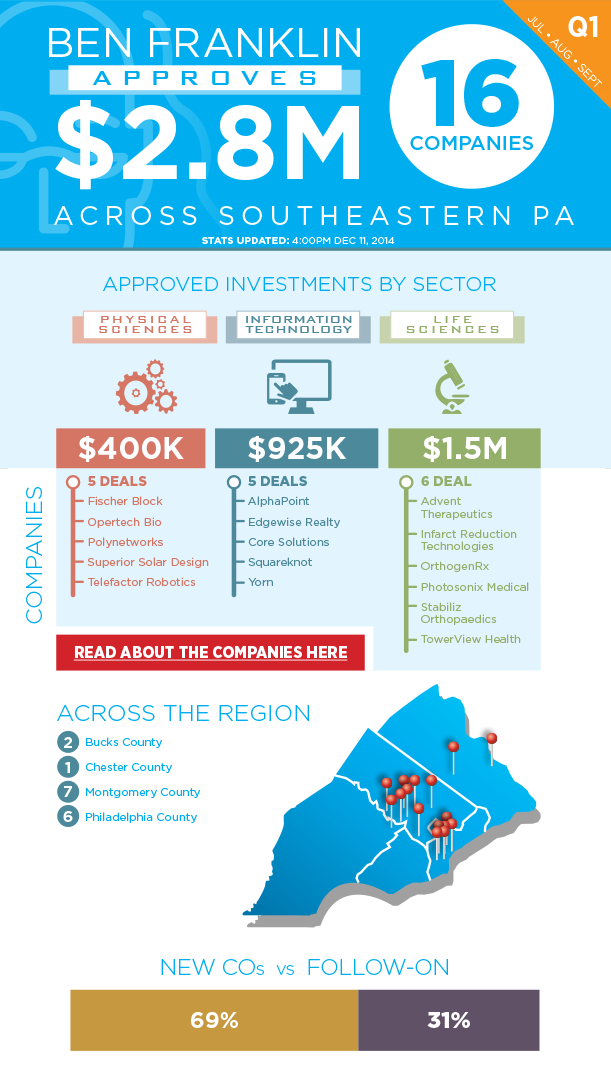 Companies approved for funding:
Advent Therapeutics – Bucks County
Advent Therapeutics focuses on providing therapies for micro-orphan applications. The company is currently working on its first product which will address a serious disorder in newborn infants in the ICU.
Advent Therapeutics is led by President and Chief Business Officer, David Lopez, Esq., CPA.
AlphaPoint – Montgomery County

AlphaPoint is the leading exchange technology platform provider to support digital currencies. The company works with some of the top Bitcoin and altcoin exchanges in the world and is faster than traditional digital currency exchanges with the ability to process nearly one million transactions per second. By easing the adoption of digital currencies, AlphaPoint's secure, scalable and customizable platform is helping to change how businesses and consumers transact. AlphaPoint has offices in Philadelphia, New York City, and San Francisco.
AlphaPoint's leadership team includes Vadim Telyatnikov, the CEO; Joe Ventura, Founder and CTO; Jack Sallen, Co-Founder and VP of Development; Scott Bambacigno, VP of Sales; Igor Telyatnikov, VP of Operations; and Keith Dallara, VP of Technical Operations.
alphapoint.com
Edgewise Realty – Philadelphia County
Edgewise Realty simplifies residential development by providing pre-construction homes directly to buyers.
The Philadelphia-based startup is committed to transforming how developers build and sell homes in major cities across the US. No other company brings property investors and potential homebuyers into the planning process quite like Edgewise. Their suite of web services allow customers to view development plans, reserve homes, personalize interiors, and apply for financing directly on the EdgewiseRealty.com marketplace.
To put it simply, buyers can purchase ground-up construction at reduced cost while customizing the look of their future home. And developers can build homes with fewer financial liabilities and a shorter sales cycle.
Edgewise Realty was founded by CEO Jing Pu, who brings 7 years of real estate experience to the company, and CTO Bobby Juncosa, a software engineer and product developer who launched several successful ventures. They are joined by a team of expert analysts, designers and producers directed by local marketing leader Michael Stumpo.
edgewiserealty.com
Core Solutions – Montgomery County

Core Solutions is the progressive leader in transforming the behavioral, medical and social services experience for behavioral health providers, consumers and state agencies. Core's Integrated Behavioral Health EHR platform, Cx360, allows for the improvement of the provider, consumer and payer relationship through increased consumer-centric collaboration, which results in improved outcomes. This is accomplished through Core Solutions' ability to simplify the end-to-end behavioral health experience, deliver integrated care coordination, improve consumer engagement and streamline accurate provider reimbursement.
Core Solutions Inc. is lead by Founder and CEO, Ravi Ganesan; COO, Racha Bagdi; Vice President of Implementation, David Hellhake; Vice President Marketing, Robert Capobianco; Vice President of Technology, David Smith and John Raden, Senior Vice President of Strategies.
coresolutionsinc.com
Fischer Block – Montgomery County

At the forefront of the Industrial Internet, Fischer Block, Inc. brings an unprecedented value proposition to the electrical power industry. With a unique solution to embed millions of advanced high-speed sensors throughout the electrical grid, this widely deployed platform will become the industry standard for applying data analytics and predictive analysis techniques, and will improve energy reliability and prevent power outages at a fraction of the cost of traditional alternatives.
Fischer Block is led by CEO, Greg Wolfe, and CMO, Margaret Paietta.
fischerblock.com
Infarct Reduction Technologies – Philadelphia County
Infarct Reduction Technologies Inc. (IRT) is developing a device, the LifeCuff, to deliver an ischemic pre-conditioning protocol. Ischemic preconditioning has been found to improve outcomes in heart attack, stroke, sepsis and other conditions. Currently the only other method of providing this protocol is manually by intensive care, surgical or emergency medical staff.
Infarct Reduction Technologies is lef by Founder, Boris Leschinsky; and CEO, Thomas Moore.
Opertech Bio – Philadelphia County

Opertech Bio has developed a revolutionary approach to taste testing, a multi-billion dollar market covering the food and beverage, flavor ingredients, pet food, and pharmaceutical industries. Opertech Bio's technology can be used to discover new flavor ingredients, measure palatability and optimize flavor formulations. Opertech's proprietary technology, called Microtiter Operant Gustometer (MOG), is the first automated high throughput system for rapid characterization of taste sensory properties. Before MOG, taste testing required many subjects, large amounts of test samples, and days to weeks for the evaluation of only a few samples-all adding up to extensive expenditures in resources and dollars. MOG accomplishes the task of taste testing on hundreds of samples in an afternoon, using far fewer subjects and samples at a fraction of the cost with greater accuracy and consistency than previously possible.
The company is led by Scott Horvitz, CEO and Kyle Palmer, CSO.
opertechbio.com
OrthogenRx – Bucks County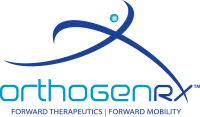 OrthogenRx Inc. is a late-stage, product-development company focused on the commercialization of class-III orthopedic medical devices. Its business model is to obtain exclusive licenses for products currently on the market outside the United States and seek FDA regulatory approval through a novel regulatory pathway. OrthogenRx is positioned by the end of 2014 to be the first company to obtain an approval for a generic Class III medical device using this pathway. The company will launch its first product in early 2015 and file for 2-3 additional product approvals by the end of 2015.
OrthogenRx Inc. is led by Michael J. Daley, Ph.D., Founder, President and CEO, with 28 years of biopharmaceutical and medical device experience. David Toledo Velasquez, PhD is a partner and Senior Vice President of Manufacturing, Quality and Alliance Management. David has over 25 years experience in manufacturing, quality systems and formulations in the pharmaceutical industry. Joel S. Weiner, MBA is the CFO and has over 30 years experience in the consulting, finance and insurance industries.
orthogenrx.com
Photosonix Medical – Montgomery County
PhotoSonix Medical is developing a treatment for dermal diseases generated by bacterial biofilm, such as acne. Biofilms, which make treatment extremely difficult, shield bacteria from attack by both drugs and the immune system, often inducing a chronic inflammatory response. Photosonix's product, CLENS™, will cut through biofilm by combining both ultrasound and violet light to kill underlying biofilm bacteria.
Photosonix Medical is led by President & COO, Mark Evan Schafer, Ph.D; Chief Scientific Officer, Tessie McNeely, Ph.D.; and Executive Chairman, Adam Dakin.
Polynetworks – Montgomery County

Polynetworks has developed a secure, open architecture PaaS (platform-as-a-service) which allows multiple types of sensor data to be captured, processed and transmitted to multiple users in real time using any communication media. It can be bundled with mapping, intelligence and analytics. This unique autonomous solution offers "any data, any device, anywhere" and is scalable to multiple applications. Polynetworks' PaaS solves multiple problems of real-time collaboration as well as delays in accessing critical data or video streams and the high ownership costs of alternate solutions. While the firm's initial focus is in video, sensor data including digital images, biometrics, motion detection, infrared, acoustic, magnetic and more can be distributed in real time. Potential applications include defense and law enforcement; emergency response; heavy industries such as energy, mining, construction; infrastructure security such as city, schools, and hospitals; and information gathering such as news media, unmanned aerial vehicles (UAV) and robotics.
Polynetworks is led by founder and CEO Azim A. Samjani.
Stabiliz Orthopaedics – Chester County

Stabiliz Orthopaedics focuses on developing, refining and bringing to market innovative orthopaedic medical devices. The company has crafted a proprietary plate and screw system used for the treatment of traumatic bone fracture. By integrating biocompatible metals with bioabsorbable polymers, Stabiliz's technology allows clinicians to customize the repair process for every patient, eliminating the need for future surgeries and reducing costs to burdened healthcare systems.
Stabiliz is led by President and CEO, Dr. Doug Cerynik; VP of Operations, Bradley Grossman, MBA; and VP of Research and Development, Michael Adelizzi, MBA.
Squareknot – Philadelphia County
With the goal of simply allowing everyone to do more, Squareknot has created an interactive outlet for making how-to-guides. The Squareknot platform allows users to generate step-by-step guides from scratch, or contribute to someone else's project, or branch off in a new whole direction. It's the ultimate platform for learning and doing more.
Squareknot is led by founder and CEO, Jason Rappaport.
squareknot.com
Superior Solar Design – Montgomery County

The Superior Solar Design LLC "SolarPower Table" is a collaboration of world class engineering and photo-voltaic science. The SolarPower Table is a highly reliable year round off grid solar energy charging station for cell phones, mobile devices and small electronic equipment.
Superior Solar Design is led by President, Douglas Davis and VP of Marketing and Media Relations, Tonya L Davis.
superiorsolardesign.com
Telefactor Robotics – Montgomery County

Telefactor Robotics is a research and development company focused on commercializing advanced vision systems and dexterous manipulation solutions for the first responder and military explosive ordnance disposal markets. The companies suite of integrated technologies components add value to military and security robots and enable new forward-looking industrial and manufacturing applications.
Telefactor Robotics is led by President and CEO, Martha Jane Chatten; CTO, Stuart Harshbarger; Vice President of Engineering, Matthew V. Kozlowski, Ph.D.; and Founder, John B. Chatten.
contineo-robotics.com
TowerView Health – Philadelphia County
TowerView Health's mission is to ensure that patients never miss a dose of critical medication. To combat this, the company has developed a smart pill box and accompanying pre-filled medication trays that fit into the pill box like a k-cup fits into a Keurig. The pill box senses the presence or absence of medication and automatically reminds patients via text message or phone reminder when they've forgotten a dose. Additionally, the data generated from the pill box will be accessible to clinical staff, allowing them to efficiently monitor their entire patient population and coordinate outreach
TowerView Health is led by CEO, Rahul Jain; CFO, Hareesh Ganesan; and CMO, Nikolaos Valilis.
towerviewhealth.com
Yorn – Philadelphia County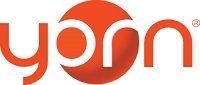 In short, Yorn is a real‐time feedback platform. This unique, closed-loop platform for healthcare, business and hospitality settings, enables patients/consumers and participants to provide feedback, in the moment, on any experience.
Utilizing a unique URL through a smartphone, tablet or any web-enabled device, participants can submit comments or ask questions. Respondents can even give NPS-style (Net Promoter Score) ratings about any aspect of an event, specific experience or topic.
Yorn is led by CEO, Rick Rasansky.
yorn.com
About Ben Franklin Technology Partners of Southeastern Pennsylvania
Ben Franklin is the most active early stage capital provider for the region's technology sectors. Ben Franklin combines best practices of venture capital with a public-spirited purpose: leading the region's technology community to new heights, creating jobs and changing lives for the better. Ben Franklin is an initiative of the Pennsylvania Department of Community and Economic Development and is funded by the Ben Franklin Technology Development Authority.
www.sep.benfranklin.org
Ben Franklin Contact:
Jason Heritage
(215) 972-6700 x3332
jason@sep.benfranklin.org
---