Let's stop talking about Negadelphia
At young pros panel, big names implore: 'Stop comparing Philly to Silicon Valley'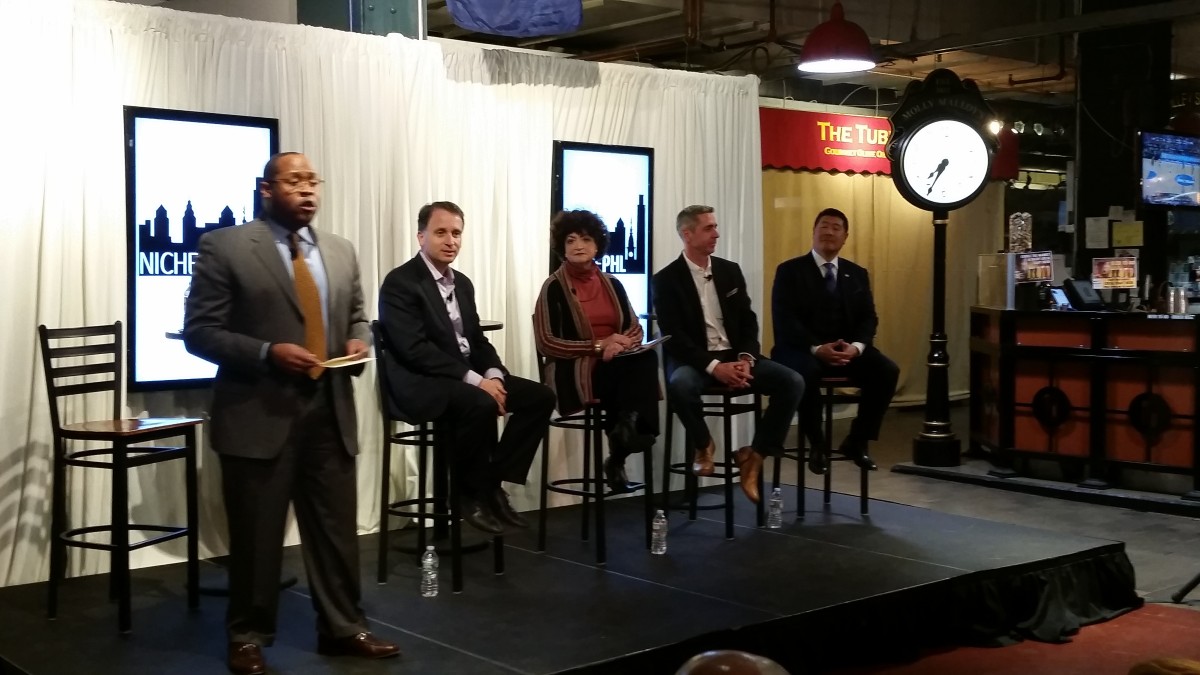 "Let's stop talking about Negadelphia, let's stop talking about cheesesteaks and Rocky, let's start talking about what really matters in this city."
Reading Terminal Market was hopping Thursday night. Crazy specials at Olympia Gyro? Nope. Big dairy sale at Downtown Cheese? Nuh-uh. DiNic's was open, though, and servin' up that famous broccoli rabe to crowds of hungry millennials. If you want to bring a diverse group of young professionals together, you have to bring savory treats.
More important than the food, however, was the reason for the occasion.
NichePHL, a series of events sponsored by the Young Professionals Network (YPN) of the Greater Philadelphia Chamber of Commerce and other YP groups, focused this get-together on discussing the present state and future of technology and innovation in Philadelphia.
"You've got the West Coast making big bets on unicorns, on the East Coast we build things that matter — things that last." – BOB MOUL
The main course was a panel, moderated by MSNBC's Robert Traynham and featuring the likes of Comcast Chief Business Development Officer Sam Schwartz, Artisan CEO Bob Moul, University City Science Center CEO Stephen Tang and Ben Franklin Technology Partners of Southeastern PA CEO RoseAnn Rosenthal.
But first, Mayor Michael Nutter made an appearance, championing StartUp PHL, DreamIt Ventures, Start. Stay. Grow. and the general growth and development in the city. "This is a place you can start, stay and grow your business," he said, citing his administration's efforts to push the "entrepreneur envelope."
That message was bolstered tenfold once the panel took the stage.
"I see an entrepreneurial community here where people are not only building their own companies, but they're building their community at the same time," Schwartz said. "I think they get a thrill from that."
MSNBC's Traynham was quick to make the comparison to Silicon Valley, and the panel was just as quick to shut that idea down.
Tang says the biggest difference between Philadelphia and Silicon Valley is how the venture capital community, big companies and startups all mesh. "Once we get that interplay by those who have the risk capital and those that have the inventions and innovations, I think we're going to be much better off," he said.
The Philadelphia-Silicon Valley comparison nearly enraged Moul.
"I'm frankly tired of being compared to Silicon Valley," he said. "The stories are replete with startups who put in a massage table and a pool table and food for everybody to eat, and they went out of business six months later." While some businesses have tried that here in Philadelphia (massage allusion noted), Moul says we're about "building business."
"You've got the West Coast making big bets on unicorns, on the East Coast we build things that matter — things that last," he said.
Rosenthal reiterated that sentiment, adding the fact that recent studies have revealed Silicon Valley to be a boys' club. "We don't see that with the folks we have here," she said.
Data released in February shows that women in Silicon Valley are paid an astonishing 13.6 percent less than their male counterparts. Here in Philadelphia, the gender pay gap is 4.9 percent. We still have some work to do, but we're getting there.
How about the future? What will tech and innovation in Philadelphia look like five to ten years from now?
"Five years from now we'll be breaking ground on our third tower," Schwartz joked (or did he?). What we will see, he said, is a lot more concentration on the city's entrepreneurial community.
Rosenthal praised the future potential of the "fourth sector" — or, how the private sector can help solve government and social issues. "These two worlds are coming together, with large corporations as well as innovators," she said.
Tang said the near future will inevitably be wonderful, but if we want real enrichment, we need to rally around our immigrant entrepreneurs. "We need to welcome these people into the community and find a way to grow and build on that diversity," he said.
Moul wants the city to focus on STEM education. A good start would be nixing the traditional "get a college education, then a job" culture. "These kids all have the aptitude to code, they have the aptitude to do graphic design," he said. "If kids come out [of high school] with the development and programming skills that are needed, we're willing to look past the traditional college education."
Moul also said the old Philadelphia narrative needs to die: "Let's stop talking about Negadelphia, let's stop talking about cheesesteaks and Rocky, let's start talking about what really matters in this city."
---