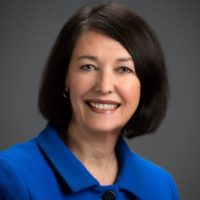 Denise Devine
Board Vice Chair—Founder & CEO, FNB Holdings, LLC
Denise L. Devine is an experienced independent board director as well as experienced Compensation Committee Chair and Audit and Risk Committee Chair under whose leadership an inaugural Enterprise Risk Assessment was initiated and ongoing organization wide monitoring processes established. Ms. Devine is also a qualified financial expert. Her leadership experience includes general management, operations and finance. A proven innovator, she has developed technology platforms with resulting commercialized product applications, and executed IP strategy, licenses, and strategic alliances. Her experience spans from entrepreneurial start-ups to Fortune 100 corporations.
Ms. Devine is Founder and Chief Executive Officer of FNB Holdings, LLC, a company dedicated to initiatives in the health and wellness space. She is also a Founder, CAO and CFO of RTM Vital Signs, LLC an early stage medical device company. As Founder and Chief Executive Officer of Nutripharm, Inc. Ms. Devine led the development of a technology platform that generated a portfolio of patents resulting in innovative natural food, beverage, pharmaceutical and nutraceutical products. The company also had manufacturing operations. Ms. Devine has executed strategic alliances and licenses with pharmaceutical and food companies as well as research agreements with the United States government.
Ms. Devine's prior business experience includes executive positions at Campbell Soup Company where she was responsible for executing over a billion in financings, devising and implementing investment strategy, structuring and negotiating various capital markets transactions, acquisitions, divestitures and joint ventures in the food business, CFO of Energy Solutions International, a global software company serving the oil and gas industry, Columbia Gas System and Arthur Andersen & Co.
Ms.Devine serves as an independent director and on the Executive Committee of the following Boards: Fulton Financial Corporation, Chair – HR and Compensation Committee and Vice Chair – Audit Committee (NASDAQ – FULT), AgroFresh Solutions, Inc. Chair – Compensation Committee and Audit Committee Member (NASDAQ –AGFS),AUS, Inc. Chair – Audit Committee and Compensation Committee Member (ESOP owned),and Ben Franklin Technology Partners, Audit and Investment Committee member. Ms. Devine is also an independent director of Cubic Corporation (NYSE – CUB), serving on the Audit and Compliance Committee and Technology Strategy Committee, and SelectQuote – serving on the Audit and Nominating and Governance Committees. She has completed a ten year tenure on the Villanova University Board of Trustees, where she served as Chair – Audit and Risk Committee and as a member of the Investment Committee and Executive Committee.
Ms. Devine is also a passionate children's nutrition and health advocate. She is Chair of The Advisory Board of the MacDonald Center for Obesity Prevention and Nutrition Education at Villanova University Nursing School, served as a member of the Health Innovations task force of the CEO Council of Greater Philadelphia, served for ten years on the Board of Lourdes Health System and is a member of the Advisory Board of the Center for Marketing and Consumer Insight at Villanova University School of Business. She is also Co-Chair of Women Corporate Directors – Philadelphia Chapter and serves on the Philadelphia Chapter Board of NACD.
Ms. Devine has received numerous Honors and Awards including the "Best 50 Business Women in Pennsylvania" Governor's Award, the Gold Medal Alumnae Award from Villanova University, the Take the Lead Award from the Girl Scouts and the Iris Newman Award from the Alliance of Women Entrepreneurs. Ms. Devine has also held numerous professional leadership positions. She served on the American Institute of CPAs Board of Directors, President of the Pennsylvania Institute of CPAs and was appointed by the Governor of Pennsylvania to serve on The State Board of Accountancy, the ethics and licensing Board for the 25,000 CPA's in Pennsylvania, serving several years as Chair of that Board. She was also appointed by the Governor to serve on the Pennsylvania Blue Ribbon Business Tax Policy Reform Commission. Ms. Devine, a co-inventor on over twenty U.S. and international patents, is also co-founder of The Alliance of Women Entrepreneurs (AWE).and has served as an "Entrepreneur in Residence" at The Wharton School of The University of Pennsylvania.
Ms. Devine, a CPA, received an MBA from the Wharton School of the University of Pennsylvania, an M.S. in Taxation from Villanova University and a B.S. in Accounting from Villanova University, where she graduated summa cum laude and first in her class.