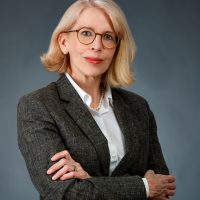 Jennifer Hartt
Managing Director, Healthcare Investment Group
Jenn Hartt is Managing Director of the Healthcare Investment Group (HIG) at Ben Franklin Technology Partners of SEP. Jenn's group manages a portfolio of over 75 health sector investments that range from pre-seed stage to approximately Series B/C stage. In addition, the HIG makes approximately 12 new investments each year, around 4 of which are pre-seed or accelerator stage investments. HIG views early stage investing as an opportunity to help guide the role of innovation in delivering more equitable and accessible healthcare and have major impact on outcomes. Our ultimate client is the person whose health and wellness is positively impacted by the innovation we help advance. We support start-up founders in that endeavor.
Jenn has closed over 150 investments totaling over $40M in over 80 companies for Ben Franklin since early 2006. She is very experienced with early stage boards and debt and equity investment instruments in addition to assessing investment opportunities and plans. Hartt is also on Ben Franklin's Investment Committee of the Global Opportunity Philadelphia Fund I where she leads healthcare investments in post-seed opportunities. She is also on the Investment Committee of the BioInnovation Fund start-up in New Orleans, LA.
Jenn holds a Master's in Biology (with a focus on molecular biology and genetics) and Bachelor's degree in Biology, graduating summa cum laude and Phi Beta Kappa, with both degrees from the University of Pennsylvania.
Prior to Ben Franklin forming the Healthcare Investment Group, Jenn was a Director within the all-sector Investment Group at Ben Franklin. Jenn has broad life science experience, starting with ten years in clinical and lab research work and related computing experience. She then moved on to technology transfer, university equity management and consulting for both small and large companies. In her earlier career, she was Associate Director of Business Development & Equity at the University of Pennsylvania where she served for almost 5 years, reporting jointly to both the Associate VP of Finance & Treasurer as well as to the Center for Technology Transfer.
Jenn has been a speaker nationally and internationally on the topics of mathematical modeling in valuation, negotiation and intellectual property asset pricing. She has served on funding and investment committees for, for example, the Coulter Foundation translational funding at Drexel University. She has also served on a non-profit cultural organization board and on her school district's 5 year k-12 science curriculum audit committee.
215-972-6700 x3217
jennifer@sep.benfranklin.org