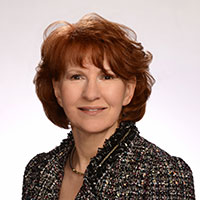 Janice Giannini
Executive Partner, Paradigm Associates, LLC
Janice Giannini thrives on seeing companies grow and having a positive impact on the economy. She promotes the financial stability and sustainability of the company. Starting with the big picture, she looks to the future through multiple lenses and works collaboratively on creating an integrated and actionable strategic view. Attuned to both the potential and risk in technology, Janice perseveres in identifying root causes to set direction and develop a balanced approach. She is respected for her unwavering ethics and the high standards she sets for herself and the company.
Currently at Paradigm Associates LLC, Giannini is an Executive Partner in this privately held management consulting firm ranked in the Top 10% by size in the U.S. She focuses primarily on strategic planning and executive coaching for clients.
Previously, Giannini served as EVP & CIO for Arbitron, a $400 million international information media company, and Lockheed Martin's multi-billion-dollar Management & Data Systems Division. At Arbitron, she was an integral member of the team that secured investment for a reverse spin creating ARB listed on the NYSE. At Lockheed Martin, she orchestrated a strategic technology vision that established a cost-competitive and contemporary IT environment supporting 7,000 employees across the continental U.S. Earlier, she started in Systems Engineering at GE, rising through the ranks quickly culminating in running a $150 million a year business. She began her career in Systems Analysis at Drexel and Johns Hopkins Universities.
Giannini received her Bachelors and Masters cum laude in Applied Mathematics from Drexel University, holds a Certificate in Cyber Security Policy and Law and is member of the National Association of Corporate Directors (NACD). Her Board experience spans technology investment, higher education, cyber security and the arts. She has authored numerous topical articles and is an accomplished public speaker on topics such as "Navigating the 21st Century Today" at an event sponsored by the Princeton University Business School.