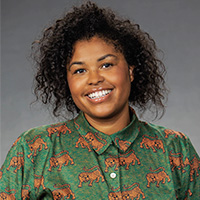 Calan Wilson
Art Director/Manager, Marketing and Creative Services
Calan is the Art Director/Manager at Ben Franklin Technology Partners. Reporting directly to the Vice President of Marketing and Communications.
Calan develops and delivers creative strategies for messaging and design with an emphasis on amplifying our thought leaders, partners, and portfolio companies. Temple U/Tyler School of Art Alum, Calan happily brings her extensive knowledge of UX/UI,  web and print design, creative direction, marketing/advertising communications, and brand development to Ben.
Outside of work, Calan is an artist, startup founder, health advocate, and community leader, celebrating and healing communities through love and innovation.