The Greater Philadelphia region is positioned to lead the next stage of disruption within the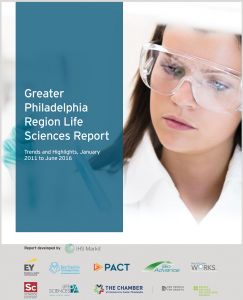 spectrum of Life Sciences disciplines as a result of its world-renowned research institutions, top biomedical programs, and a healthy ecosystem of small and large enterprises and investment activity.
As previewed at PACT's Impact 2016 event, the Greater Philadelphia Life Sciences Report details investments in Life Sciences companies from 2011 through the first half of 2016. In addition, it explores how the payoffs from those investments have been woven into the economic fabric of the region. The long-standing and continued importance of Life Sciences in the region is producing a broad range of sustainable employment opportunities, therefore increasing the importance of this sector to our export profile.
Highlights from the report include:
1,200 establishments in the Life Sciences
Leadership in the fields of cell therapy, gene therapy and gene vaccines
48,900 direct jobs
6 medical schools (including 4 NCI-designated Cancer Centers) and 10 Medical Centers
$1B in NIH funding
>5,400 life science-related patents since 2010
$6.3B in investment in regional companies
$24.6B in real output (in constant 2010 dollars), 4% of the GPR's total
The Greater Philadelphia Life Sciences Report is a joint study by: